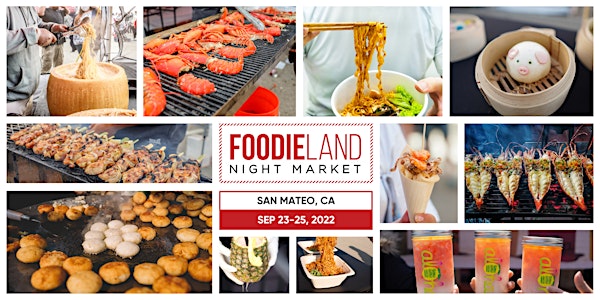 FoodieLand Night Market - San Mateo | September 23-25
FoodieLand is a foodie-inspired three-day event featuring over 170+ food and retail vendors, games and live entertainment.
When and where
Location
San Mateo County Event Center 1346 Saratoga Drive San Mateo, CA 94403
Refund Policy
Refunds up to 7 days before event
About this event
Vendor Lineup & Event Map : Click Here
NOTE: Tickets will only be available online through Eventbrite. No tickets will be sold at the door. Please purchase your tickets in advance.
A SUMMER TO REMEMBER. There is something for everyone at FoodieLand.
FoodieLand is the perfect outdoor food event for everyone. A must-attend for foodies, this exclusive festival in the heart of San Mateo is inspired by the Night Markets of Asia. Bring your friends together for late-night sounds, tastes, and scents where you can experience a street festival this summer in the Bay Area. Enjoy authentic multicultural street foods, and many enticing beverages and desserts to please your palette. Don't miss our bar for your favorite alcoholic beverages. Stop by to participate in a variety of carnival games, and take in live musical performances by some of your favorite artists and DJs. Shop small and discover talented local artisans from dozens of local booths including jewelry, clothing, artistic paintings, candles, home decor, and more.
Immerse yourself in San Francisco Bay Area's finest FoodieLand Night Market to eat, drink, shop, and play. Featuring over 170 vendors, you'll experience a variety of amazing foods and drinks, arts, crafts, games, and live entertainment in one great location. FoodieLand is undoubtedly the city's hottest summer playground. Make it a dream date, a summer night out with friends, or a class reunion to remember. Tell your friends, and save the dates for FoodieLand events for a summer to remember.
Event Hours
Friday - 3 PM to 10 PM
Saturday - 1 PM to 10 PM
Sunday - 1 PM to 10 PM
📌 Location: San Mateo County Event Center
💰 Admission: Event tickets are available only through Eventbrite and must be purchased online prior to arriving at the event.
🧒 Children under 5 are admitted for free.
🚗 Parking is available for $15/vehicle from the venue or $5.50/vehicle at the Hilsdale and Hayward Park CalTrans Station (2-3 minute walk). ADA parking is available at the venue.
🐾 Sorry, no pets are allowed. Service animals are allowed.
🖥 Visit our website for more info: Click Here
📸 Follow us on Instagram: Click Here
DIRECTIONS:
We are excited to host Foodieland Night Market; the event is anticipated to be highly attended; we encourage all attendees to take public transit:
PUBLIC TRANSIT:
Take CalTrain or SamTrans to the Hillsdale or Hayward Park Stations for a short walk to Fairgrounds. The Hillsdale CalTrain station is located across the street from the Event Center. Entry to the Event Center is 2701 S. Delaware (closest to 28th Ave.). The Hayward Park CalTrain station is about a ten-minute walk to the Delaware St. entry.
IF YOU DRIVE:
Both the Hillsdale and Hayward Park Caltrain stations have low-cost parking and are located within walking distance of the San Mateo Event Center. PARKING IS LIMITED. Onsite parking at the Event Center is $15 per vehicle at the Event Center Main Entrance at 1346 Saratoga Drive - no in/outs provided.
The Hillsdale and Hayward Park CalTrain Stations offer parking for $5.50 a day. They both have over 200 parking spaces and are conveniently located close to the event entrance: a 1-min walk from the Hillsdale Station and a 10-min walk from the Hayward Park Station.
Overflow event parking on Saturday, September 24-Sunday, September 25 only can be found at Kaiser Permanente San Mateo Medical Offices (1000 Franklin Parkway; 10 minutes from Event Entrance).
RIDESHARE:
The Event Center can be accessed for Pedestrians and Vehicles at 2701 S. Delaware or 1346 Saratoga Drive. If you drive to the event, please avoid parking in residential neighborhoods around the Event Center, many neighborhoods have limited hour "residential permit only" parking. Street parking is also available in commercial areas along 25th Avenue and on the El Camino.
SERVICE ANIMALS
Service animals are welcome at the San Mateo County Event Center. Guests are limited to one service animal as defined by the ADA. Guests, or a member of their party, must physically control the service animal on a leash or harness at all times. Patrons are responsible for cleaning up after all service animals. Guests may be required to remove their service animal from the property if the service animal demonstrates aggression, disrupts activities, is left unattended, or is not cleaned up after.
FAQ
Is there parking available at the event?
Yes, there are various parking options at the event including low-cost parking across the street from the venue.
Are there alcoholic beverages at the event?
Yes, alcoholic beverages will be available at the various bars at the event.
Are there any vendors serving vegan items on their menu?
Vendors offering vegan/vegetarian options will be noted on our vendor lineup with a green leaf.