Rejoignez nous pour une soirée consacrée à la grande distribution.
About this event
FoodHack Meetup Valais: le rendez-vous de l'écosystème de l'alimentaire, des boissons et de la foodtech.
Les FoodHack Meetup Valais s'adressent aux entrepreneurs, professionnels et passionnés d'innovation dans le secteur alimentaire. Découvrez, échangez et partagez vos expériences!
Vous démarrez votre entreprise ou lancez un produit, vous cherchez des opportunités d'investissement dans des startups de la foodtech ou vous voulez simplement nouer des contacts avec d'autres professionnels partageant les mêmes idées? Cet événement est fait pour vous.
Au sujet de ce meetup
Créer de nouveaux produits c'est bien, les vendre c'est encore mieux.
La distribution est souvent un des principaux défis auxquels font face les entrepreneurs dans le domaine alimentaire.
Pour notre prochain Meetup FoodHack Valais, nous avons réuni trois experts de notre réseau pour faire toute la lumière sur le fonctionnement des réseaux de distribution, échanger nos expériences et répondre à toutes vos questions sur le sujet.
Comment entrer dans les rayons de la grande distribution, et surtout y rester?
Quels sont les nouvelles tendances en matière de distribution?
Quelles sont les avantages et les inconvénients des différents modèles?
Quelles sont les règles, les conditions, les sujets à maîtriser, les risques et les opportunités à prendre en compte?
Speakers:
- Fabrice Haenni, Director Distillerie Morand
- Damien Zufferey, Responsable marketing assortiment Migros Valais
Cet événement est gratuit mais l'inscription est obligatoire. .
Pitch:
Vous avez une nouveauté à lancer, un appel à lancer à la communauté, un projet à pitcher? Nous vous offrons l'opportunité de le faire durant la soirée avec une session de pitch de 30 secondes ouvert à toutes et tous.
Date: 7 juin 2021
Heure: De 19h30 à 21h30
Langue : Français
Lieu: Zoom
Ambassadeurs : Emilie Dellecker, Alexandre Luyet, Jean Besson, Kevin Delasoie
Le concept des FoodHack Meetup:
Des rencontres dans le monde entier pour créer des réseaux.
Evénement gratuit et ouvert à tous
Des intervenants de l'industrie sont invités à s'exprimer sur le thème du mois
Possibilité de présenter votre entreprise, votre projet, etc. sur scène
Echangez et réseautez jusque vers 21h30
A propos de l'organisateur:
FoodHack est une plateforme communautaire qui inspire, promeut met en relation les entrepreneurs et innovateurs du secteur alimentaire. Avec des rencontres dans le monde entier, une newsletter hebdomadaire sur l'industrie alimentaire et un sommet annuel - en savoir plus (www.foodhack.global)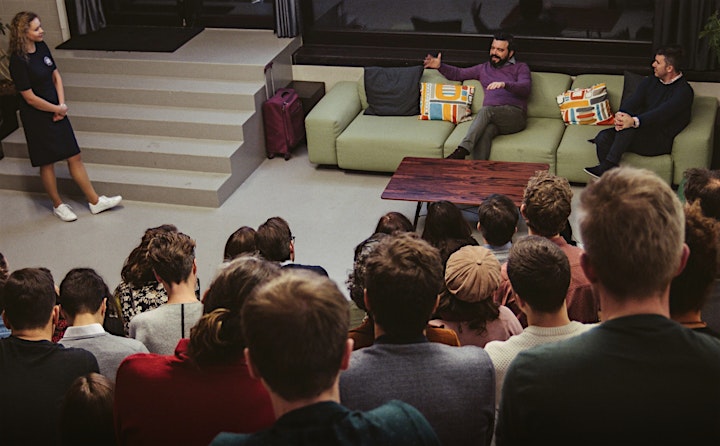 Organizer of FoodHack Meetup Valais, virtual meetup - La grande distribution
The global community and discovery platform for food entrepreneurs, executives and investors. FoodHack hosts monthly meetups for the food and foodtech community across the globe. Our mission is to create a dynamic and supportive ecosystem that supports individuals and businesses working towards a better future of food.