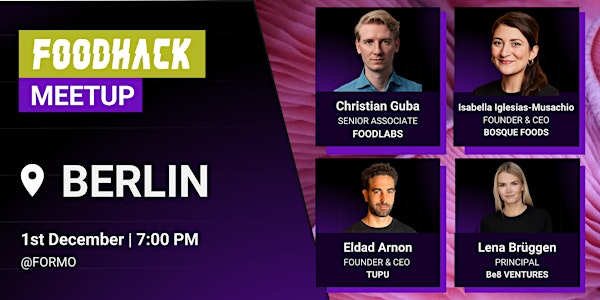 FoodHack Berlin December Meetup
December FoodHack meetup in Berlin.
When and where
Location
Formo Stralauer Allee 10-11 10245 Berlin Germany
About this event
Join us in December for another fantastic lineup of foodtech innovators and industry leaders as they discuss issues pertinent to foodtech in Germany and beyond. Come along for plenty of networking opportunities, to pitch your idea and to try delicious food and beverage samples. This time our theme is Funding Fungi!
Whether you're just starting your food business, looking to connect with startups to invest in or want to network with other like-minded professionals - this event is for you.
The event is free but registration is necessary.
Guest Speakers:
Lena Brüggen - Be8
Lena Brueggen is Principal at the Berlin-based FoodTech VC Be8 Ventures, which she joined in early 2020. As part of the founding team, she is responsible for the alternative protein investment since inception and is supporting startups with her deep knowledge and network in the sector. Prior to joining Be8, Lena gained experience in the consulting and investment space, where she advised international corporate and private equity clients. She studied in Hamburg, London and Barcelona where she gained a master's degree in international finance.
Isabella Iglesias-Musachio - Bosque Foods
Isabella has an academic background in sustainability and agriculture. She has spent her career building startups in the United States, Europe and Asia. She has a proven track record in leading tech startups to scale internationally, most recently with ag-tech startup Infarm. She brings her passion for sustainability, decade-long experience in fermentation and experience in business management and strategy to lead Bosque Foods as CEO.
Christian Guba - FoodLabs
Christian is heading the investment team at FoodLabs, a €100m early-stage VC Fund & Venture Studio focusing on food, sustainability and health based in Berlin. At FoodLabs, he has led investments in MicroHarvest, WNWN Food Labs, Bosque Foods, Bright Biotech and Animal Alternative Technologies. Before joining FoodLabs, Christian worked at btov Partners, Project A, BCG Digital Ventures and Google and has a background in Finance & Marketing from HHL Leipzig.
There will also be a special presentation by Dr. David Schmelzeisen of Project Eaden.
Panel moderator:
Eldad Arnon, CEO and Co-founder @Tupu.
30-second Pitches:
Are you launching a new product? Are you looking for your next R&D expert or your next CEO? Are you looking for a job or an internship? Join our 30-second pitch session and share your business update with the audience (open to anyone).
Date: 01.12.2022
Time: 19:00 - 21:00 CET
Venue: Formo - The Future of Dairy from Berlin
Language: English
Your hosts:
Sarah Decoine, David Schoensee and Naomi Sparks of FoodHack Berlin
The FoodHack Meetup concept:
Global food industry meetups to network, learn and be inspired.
Always free to attend and open to everyone!
Opportunity to pitch your business, venture, etc. on stage.
About the Organizer:
FoodHack is a community-driven platform that inspires, highlights and connects food entrepreneurs and innovators. With meetups across the globe, a bi-weekly food industry newsletter, a membership program and an annual summit.
Must RESERVE in advance.