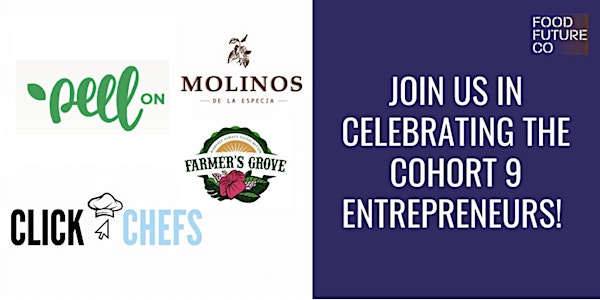 FoodFutureCo Cohort 9 Capstone (Virtual)
Please join us on Tuesday, June 28th in NYC for an invite-only pitch event and cocktail reception featuring our cohort 9 companies.
About this event
Please join us to celebrate our superstar CEOs and companies — Click Chefs, Molinos de la Especia, Peelon and Farmer's Grove— as we complete our ninth FoodFutureCo cohort.
Stay tuned for more updates on the location, our opening guest speaker and more exciting details!
The event will take place in NYC and will be live-streamed online. The livestream will start at 6:45PM.
To register for the in-person event, visit here
Are you interested in a one-on-one in-person or virtual meeting with a Cohort 9 founder? Sign up here.
We will follow up with qualified investors to coordinate specific virtual and/or in-person meeting times.
For investors and media, please reach out to Michael Conway for a complementary ticket at michael.conway@foodfuture.co. For all other inquiries, please contact Michael.