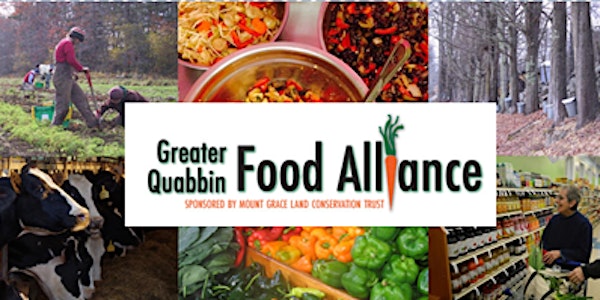 Food Waste Solutions for Businesses and Events (November Session)
Come learn what you can do with your organization to reduce your waste!
When and where
Location
Brick and Feather Brewery 78 11th Street Montague, MA 01376
About this event
NOTE: This page is for the NOVEMBER session of this 2-part series. For details and to RSVP for the December 4th session please go to this page for the December session (click the link).
_____________________________________________________________________________________________
Did you know? According to the NRDC, 40% of food produced in the US goes uneaten!
Come learn what you can do with your organization to make a difference.
Businesses, restaurants, and event planners all over the country are discovering that recycling and composting is easy and can cost the same as throwing it all in the trash, if not less! Learn how to impress your customers by increasing your green practices and lowering your carbon footprint for your business, restaurant, community agency, faith-based organization, food processing facility, or residential facility.
Local solid waste experts will share free resources, local success stories, and tips and tricks for getting started or taking the next steps. You will leave with achievable ideas and resources to initiate or advance your composting and recycling efforts.
In this month's session we will cover topics relevant to reducing waste from your regular business operations - for everything from food service businesses to office lunchrooms - and small, regular events like meetings or monthly gatherings that often have food brought in.
Our workshop agenda for this month's event is as follows:
5:30-5:45pm - Food/Drink - Grab some delicious food* catered by Nalini's Kitchen in Orange, MA, and beverages from Brick&Feather's bar (non-alcoholic will also be available) and get settled in!
*Suggested donation of $10 to benefit Mt. Grace Land Trust. In keeping with the spirit of this event, please consider bringing your own reusable tableware, and to-go containers!
5:45-6:45pm - Presentations:
1. Intros, hellos, and Food Waste overview by Rick Innes of ClearView Composting
2. Business Waste 102, Source Reduction strategies, and RecyclingWorks overview by Khrysti Smyth Barry of the RecyclingWorks in MA program and the Center for EcoTechnology
3. Food Donation success stories and logistics by Jodi Falk of Rachel's Table
4. On-site Food Waste Logistics 101 and examples of successful business food waste collection models by Amy Donovan of the Franklin County Solid Waste Management District
5. *NEW ADDITION 10/31!* Jim Zaccara of Hope&Olive and Magpie restaurants in Greenfield will share his experiences with food waste diversion at his restaurants.
6:45-7pm Intermission
7-8pm - Panel Discussion and Q&A - Ask us all your waste reduction questions!
Flyers and additional resources will also be available for you to read and take home.
This event is presented by The Greater Quabbin Food Alliance and Mount Grace Land Conservation Trust, in partnership with Drawdown Montague and the Worcester County Conservation District.
Feel free to share the below flyer if you' d like to help us spread the word!