Food Waste Free NYC
When and where
Location
Snapple Theater Center 1627 Broadway New York, NY 10019
Description
Limited Number of Press Passes Available. Please email Danielle@FoodTank.org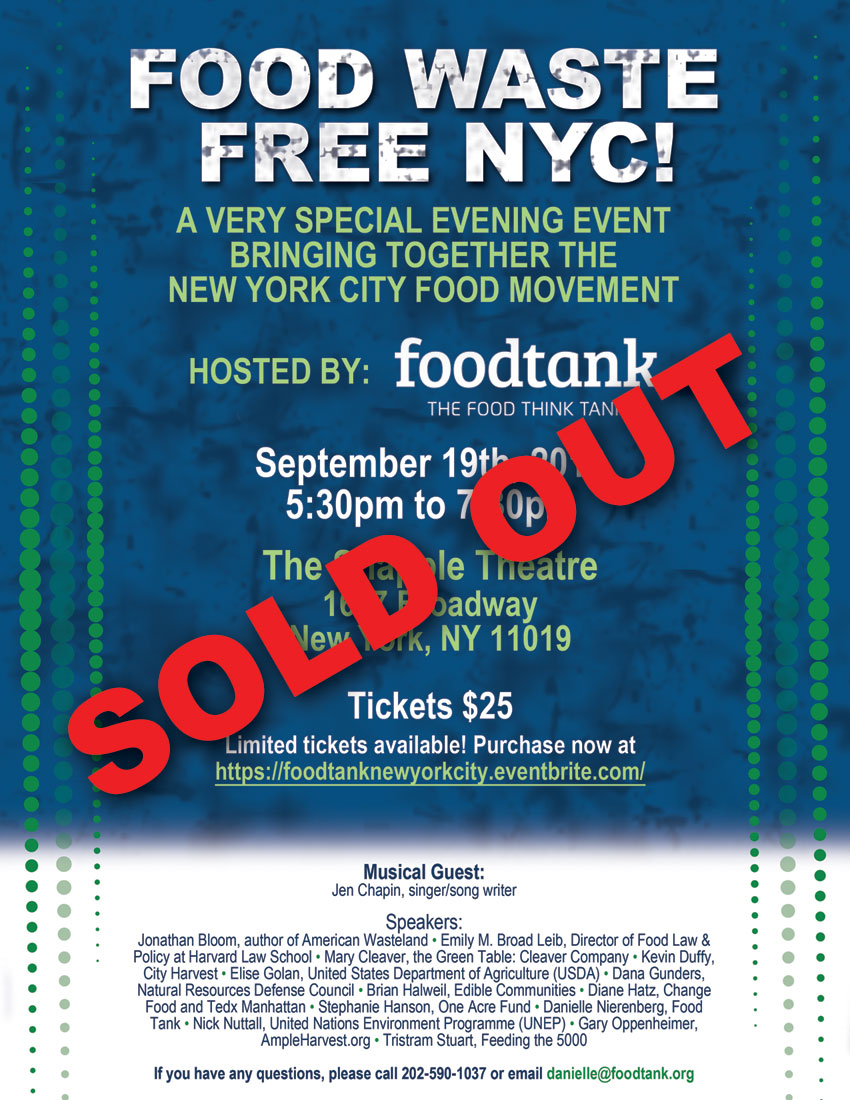 FOOD WASTE FREE NYC
A very special evening discussion bringing together the New York City food movement for food waste awareness week. Hosted by Food Tank: The Food Think Tank
September 19th from 5:30PM to 7:30PM EST
The Snapple Theater, 1627 Broadway, New York, NY, 10019
Musical Guest:
Jen Chapin, singer/songwriter
Speakers:
Jonathan Bloom, author of American Wasteland
Emily M. Broad Leib, Director of Food Law & Policy at Harvard Law School
Mary Cleaver, the Green Table: Cleaver Company
Christine Datz-Romero, Lower East Side Ecology Center
Kevin Duffy, City Harvest
John Filippelli, U.S. Environmental Protection Agency
Elise Golan, United States Department of Agriculture (USDA)
Dana Gunders, Natural Resources Defense Council
Brian Halweil, Edible Communities
Diane Hatz, Change Food and Tedx Manhattan
Stephanie Hanson, One Acre Fund
Danielle Nierenberg, Food Tank
Nick Nuttall, United Nations Environment Programme (UNEP)
Marcel Van Ooyen, GrowNYC
Gary Oppenheimer, AmpleHarvest.org
Tristram Stuart, Feeding the 5000
and many more to be announced soon!
Drinks and light snacks included!
$25 donation. Limited tickets available, purchase now.
If you have any questions, please call 202-590-1037 or email danielle@foodtank.org.
The event will be livestreamed for free at www.FoodTank.org!