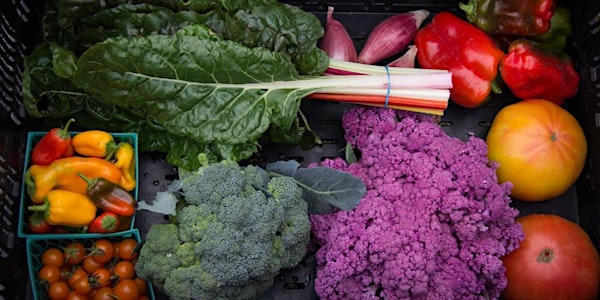 Food Summit 2017 - The Value of Local Food
When and where
Location
The 1912 Center 412 East Third Street Moscow, ID 83843
Description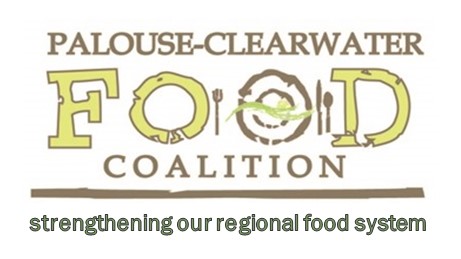 ---
Palouse-Clearwater 2017 Food Summit - The Value of Local Food: Community, Culture and Commerce

The 2017 Food Summit, hosted by Palouse-Clearwater Food Coalition is scheduled for Friday, January 27, 2017 from 8:30 a.m. – 4:00 p.m. in the Great Room at Moscow's 1912 Center (412 East Third Street).

The full-day conference, The Value of Local Food: Community, Culture and Commerce, will highlight local food businesses, connect participants with foods that are available locally, discuss gaps in our food system and how to increase local food access for underserved populations, and provide time for action-oriented planning and networking. Presentations will be interspersed with art and entertainment. Keynote speaker, Dr. Steven VanAusdle, President Emeritus of Walla Walla Community College, honored recipient of the WSU Alumni Achievement Award, and United States White House Appointed Champion of Change will speak on "Creating a Culinary Culture: The Walla Walla Story." Dr. VanAusdle has been a pioneer for fostering a culture of innovation and entrepreneurism on college campuses and within the communities they serve.
Other highlights include: Assistant Professor Steve Peterson from the University of Idaho College of Business and Economics will present his research findings on the economic impact of the Moscow Farmers Market. Tiffany Midge, the City of Moscow's Poet Laureate, will recite poetry thematic of this year's Summit. Seventh graders from Moscow's Palouse Prairie Charter School will share a Haiku reflection on the Value of Local Food.
The event will include a documentary team for Food StoryCorps, and conference participants are invited to audio-record memories and personal stories about their connection with food. Selected stories will be uploaded to the Palouse-Clearwater Food Coalition's StoryCorps Community page and archived through the American Folklife Center, the U.S. Library of Congress and the Latah County Historical Society.

Registration is on a sliding scale and includes a catered lunch. If you live in Whitman County, SEWEDA (Southeast Washington Economic Development Association) is offering full registration scholarships. To receive a Whitman County scholarship, contact Sarah McKnight .
A limited number of need-based scholarships are also available for residents outside of Whitman County. If you would like to request a scholarship and live outside of Whitman County, please contact Amanda Snyder.
Pre-registration is required by January 20. Register early! The past two Food Summits have filled to capacity. Check-in begins at 8:30 a.m. and the program will start at 9:00 a.m.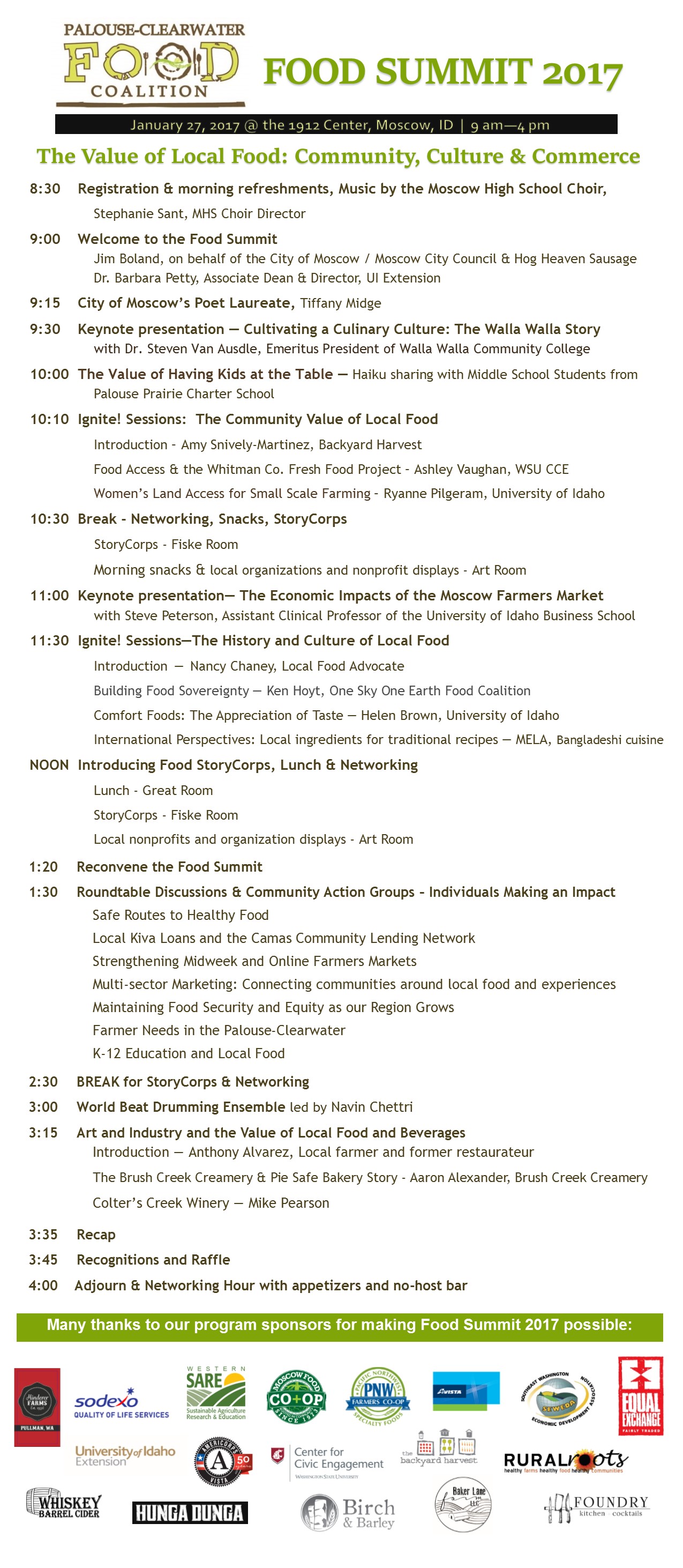 For more information, visit: www.pcfoodcoalition.org or contact planning committee chair Colette DePhelps or Amanda Snyder.


The Palouse-Clearwater Food Summit is made possible by: the Palouse-Clearwater Food Coalition, University of Idaho Extension, AmeriCorps Vista, WSU Center for Civic Engagement, Backyard Harvest, Rural Roots, and numerous community members and volunteers. Many thanks to this year's Food Summit sponsors, including: Western Center for Sustainable Agriculture Research & Education, The Moscow Food Co-op, PNW Farmers Co-op, Equal Exchange, AVISTA Cooperation, Southeast Washington Economic Development Association, Sodexo, Hinderer Farms, Whiskey Barrel Cider Company, Hunga Dunga, Birch & Barley, Baker Lane Farm, and the Foundry Kitchen & Cocktails.