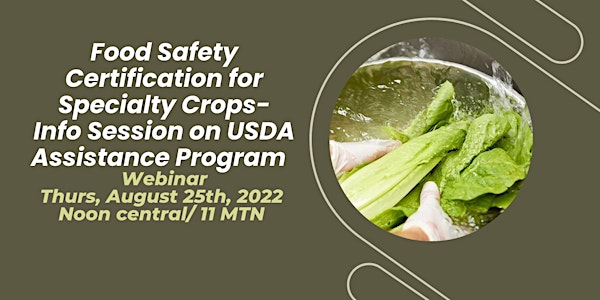 Food Safety Certification for Specialty Crop Producers- Program Overview
Learn about the Food Safety Certification for Specialty Crops Program, and applicable options for Specialty Crop producers
About this event
Food safety certification can provide customers with greater confidence in their local purchases, and increase opportunities for new specialty crop markets. FSA is currently providing specialty crop producers with funding to assist with the costs of:
developing a food safety plan
maintaining or updating a food safety plan
food safety certification
certification upload fees
microbiological testing
training expenses
This webinar will go over how your farm can utilize this program to improve your specialty crop business.
A portion of the webinar will also review different routes specialty crop producers may choose for their certification.
A recording will be sent out to all who registered after the webinar.
For more details on the program, visit: