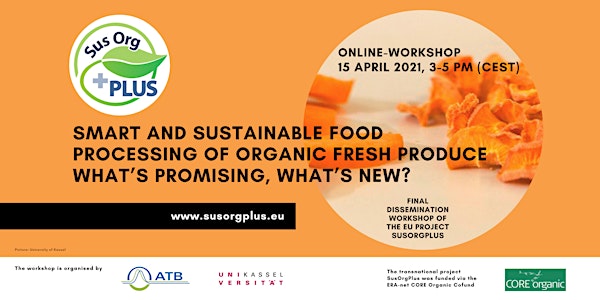 Food processing of organic fresh produce: What's promising what's new?
Experts from food industry and research come together to discuss the latest technologies in drying of organic fresh produce.
About this event
Experts from research and industry will discuss about smart and low energy input processing chains, natural food additives and colourants, and supportive material for a code of practice to increase sustainability and consumer acceptance of organic food stuffs. Among other contributions, the workshop will present the final results of the EU project SusOrgPlus, which was funded via the ERA-net CORE Organic Cofund.
Registration is free of charge and requested. The workshop will be held with Zoom. Please note that the number of partcipants is limited.
Topics
Dynamics of food processing
Non-invasive real-time measurement
Resource efficiency and energy efficiency in drying
Reduction of losses
Smart adaption of processes
Precise specification of end product quality
Extend control systems starting from the product
Drying with CO2 neutral heat pump and control of the dryer
Target groups
Organic food producers and processors
Researchers
Organic fresh produce associations
On-farm processors