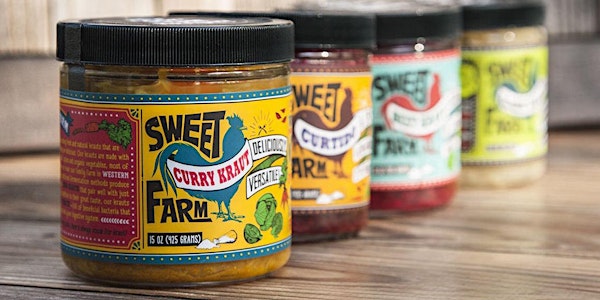 Food Preservation Series
When and where
Location
Common Good City Farm 300 V Street Northwest Washington, DC 20001
Description
Sign up for the entire series or just one or two!
Intro to Fermentation: Krauts and Slaws
Thursday, June 14, 6 - 8 pm
Have you heard all about the benefits of fermented foods, but don't know where to start? In this fun and informative class, you'll learn all about fermentation, probiotics, and the benefits of making your own fermented veggies. Join Rachel Armistead of The Sweet Farm as she walks you through the basics of home vegetable fermentation
using
produce
grown at Common Good City
Farm, such as carrots, beets, radishes and more.
Attendees will
chop, grate, salt, and mix their very own batch of veggies to ferment at home, and leave with the knowledge necessary to make more batches at home.
Intro to Fermentation: Ginger Beer
Thursday, July 12, 6 - 8 pm
Soda season is upon us! Nothing beats the heat like the sweet fizz of an ice-cold soda pop. But who wants all that sugar? All those
chemicals? All that...what is phosphoric acid, anyway? Rachel Armistead, co-founder of The Sweet Farm and avid soda lover, teaches you how to make your own lightly fermented ginger beer (and other sodas) with less sugar, natural ingredients and seasonal flavorings. Attendees will leave with a how-to guide, a handmade ginger bug (wild soda culture), and recipe ideas for a summertime's worth of sweet, delicious fizz!
Intro to Fermentation: Pickles and Relishes
Thursday, August 9, 6 - 8 pm
What do you think of when you hear "pickle"? Cucumbers, right? But did you know that you can pickle all sorts of summer veggies? From green tomatoes to hot peppers, zucchini to green beans, summer's bounty is full of potential pickles and relishes. Rachel Armistead, co-founder of The Sweet Farm, will guide you through the process of brining and fermenting, using produce from Common Good City Farm, such as cucumbers, peppers, tomatoes, and more. Attendees will leave with a how-to guide, a quart of handmade pickles or relish, and the confidence and know-how to continue fermenting all summer long!
Rachel Armistead is co-owner of The Sweet Farm, a fermented foods company in Frederick, Maryland, that sells a variety of naturally fermented, probiotic krauts, pickles, mustard and ginger beer. She also loves teaching people how to make fermented veggies and sodas at home for themselves. Through product sales and workshops, Rachel hopes to once again make fermentation part of our common food culture.