Food Preservation- Pressure Canning Seasonal Vegetables
Description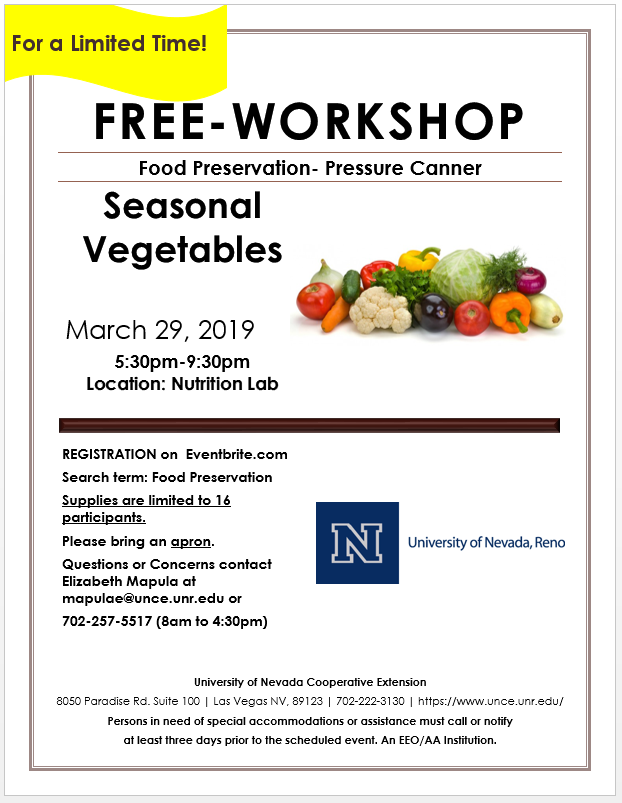 University of Nevada Cooperative Extension's Home Food Preservation Program will be hosting a workshop in pressure canning vegetables. The workshop is intended for anyone who wants to learn how to create seasonal canned vegetables. This is a beginner/ novice level workshop. Pre-registration is required. This is a FREE workshop.
REGISTRATION on Eventbrite- Search- Food Preservation
Supplies are limited to 16 participants.
Cost of event: FREE
Please bring an apron.
Workshop will be in the Nutrition Lab, please follow the signs.
Date: March 29, 2019
Time: 5:30pm to 9:30pm
ENTRANCE TO WORKSOP- The main building will be closed after 5pm. Please use the side entrance located at the left side of the main building. There will be a sign directing you into the courtyard. Turn right once in the courtyard and you will see the next sign directing you to the entrance of the classrooms and kitchens.THIS IS NOT LOCATED IN UNLV'S CAMPUS.
Persons in need of special accommodations or assistance must call or email Elizabeth Mapula at
702-257-5517 or mapulae@unce.unr.edu at least three days prior to the scheduled event.
University of Nevada Cooperative Extension is an EEO/AA institution.