Description
Food, Nutrition and Politics
Marion Nestle, PhD in conversation with Laura Schmidt, PhD
Join us for a lunchtime conversation with Marion Nestle, PhD and Laura Schmidt, PhD, about nutrition policy and research, scientific conflicts of interest, the upcoming Dietary Guidelines, global food systems and more.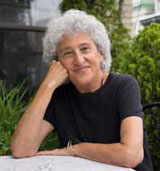 Marion Nestle, PhD, is the author of "Unsavory Truth: How Food Companies Skew the Science of What We Eat" and "Food Politics 2018: Food Industry Influence on Nutrition Research". Nestle is Paulette Goddard Professor of nutrition, food studies, and public health, emerita, at New York University, and Visiting Professor of nutritional sciences at Cornell. She has a PhD in molecular biology and an MPH in public health nutrition from UC Berkeley. She lives in New York City.
Laura A. Schmidt, PhD, is a Professor of Health Policy in the School of Medicine at the University of California at San Francisco. She holds a joint appointment in the Philip R. Lee Institute for Health Policy Studies and the Department of Anthropology, History and Social Medicine. Dr. Schmidt is also Co-Director of the Community Engagement and Health Policy Program for UCSF's Clinical and Translational Sciences Institute. She received her PhD training in sociology at UC Berkeley and while there, completed doctoral coursework in public health, and also holds a masters degree in clinical social work. Dr. Schmidt's central goal is to bridge the worlds of biomedical research, clinical practice and population health in ways that help us better understand some of the most pressing issues in health and health care today: the widening of health disparities and the societal of regulation risk factors in chronic disease.