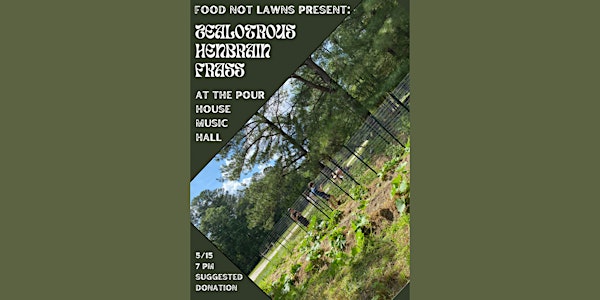 Food Not Lawns Benefit w/Zealotrous, Henbrain, and Frass
The Pour House Music Hall and Record Shop
Location
The Pour House Music Hall & Record Shop
224 S Blount St
Raleigh, NC 27601
About this event
Petrichor Booking, Raleigh Food Not Lawns, and The Pour House Music Hall are coming together to raise money for our local Food Not Lawns Chapter. 100% of proceeds will go directly to them.
Using friendship-based community organizing and principles of permaculture, gift economy, and mutual aid, Food Not Lawns has been turning yards into gardens and neighborhoods into communities since 1999, when we were conceived by the Food Not Bombs family in Eugene, Oregon. For more than twenty years small, self-organized groups of grassroots gardeners have been organizing local seed swaps, joining together for garden work parties, and making lots of friends while learning more about the simple act of growing food can radically improve your home, your community, and your life.
https://www.foodnotlawns.com/
ZEALOTROUS is a political punk band from Durham, NC known for their rageful, high-energy live performances.
Their self-titled debut EP arrived in late 2019 and received critical praise: "God damn this is some solid punk rock! It reminds me of the best acts of the 90s – Epitaph, Fat Wreck Chords, and Hellcat Records artists" (Issues Magazine).
Not letting the live music shutdown stop them, ZEALOTROUS continued to build momentum with three timely singles released in 2020-2021. Green Night, their latest, is a Celtic-tinged punk anthem released on St. Patrick's Day and reaching thousands of listeners around the globe. With plenty of pent-up rage, ZEALOTROUS continues to wow audiences with their unrelenting on-stage
https://zealotrous.bandcamp.com/
http://facebook.com/zealotrous
Henbrain (Raleigh NC)
No one ever asks Henbrain to turn up the bass. The band features two electric basses chugging alongside one another, which defines its low-frequency acid rock sound.
www.henbrain.bandcamp.com
https://www.facebook.com/Henbrain
Frass:
Noisy/weird atmospheric rock worship from the lines of Boris, Melvins, Swans, Sonic Youth
https://frassnoise.bandcamp.com/releases