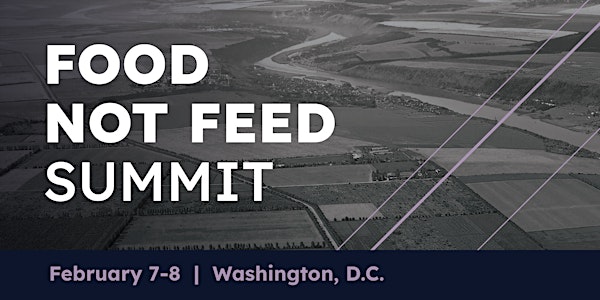 Food Not Feed Summit
A large farmer-led coalition is hosting a summit in Washington, D.C. to demonstrate the need to transform the 2023 Farm Bill.
Date and time
Tuesday, February 7 · 6 - 9am PST
About this event
The Food Not Feed Summit aims to establish an agenda of shifting federal farm programs toward fiber-rich foods and regeneratively raised livestock and poultry within a system that's fair and equitable from seed to fork.
America's farms have long been the heart of our nation. Our farmers know how to seed, cultivate, grow, raise, and harvest enough food for all of us to lead happy, healthy lives, in a way that safeguards our environment and secures a bright future for our children.
Unfortunately, multinational corporations spend millions lobbying for incentives that push farmers to grow feed for livestock all over the world, instead of producing the nutritious food that's better for farmers to grow and consumers to eat. This leaves too many of us hungry, sick, and without access to the fruits and vegetables that our government recommends.
And that's not all: this approach also drives farmers from their land, abuses animals, destroys our water, soil, and air, and even threatens America's national security through a reckless trade imbalance. All the while, multinational corporations reap windfall profits.
That's why a growing coalition of advocates is hosting a summit in Washington to demonstrate the need and momentum to fundamentally change America's agriculture policies. In February, ahead of the 2023 Farm Bill reauthorization, this coalition will advocate a policy shift towards Food Not Feed, to revitalize America's heartland and put profits back in the pockets of our family farmers.
Presented by
Summit co-host organizations include:
Academia: Farm Bill Law Enterprise; Harvard Law School, Food Law and Policy Clinic; Johns Hopkins Center for a Livable Future
Agriculture: American Grassfed Association; Farm Action; Farm Action Fund; Indiana Farmers Union; Kansas Black Farmers Association; Northeast Organic Farming Association of New Hampshire; Operation Spring Plant; Organic Seed Alliance; Ranch Foods Direct; Rural Coalition; Socially Responsible Agriculture Project
Animal Welfare: American Society for the Prevention of Cruelty to Animals (ASPCA); Farm Forward; The Transfarmation Project
Environment: Earthjustice; Environmental Working Group; Friends of the Earth; Re:wild; Sierra Club; Union of Concerned Scientists
Faith: American Friends Service Committee; Aytzim: Ecological Judaism; Hazon; Interfaith Power & Light; Unitarian Universalists for Social Justice
Food: Plant Based Foods Institute; Slow Food USA; Unified Fields
Health and Nutrition: Health Care Without Harm; Physicians Committee for Responsible Medicine; Rural Empowerment Association for Community Health
Social Justice: American Sustainable Business Network; Food Integrity Campaign; Hand, Heart, and Soul Project; Women Advancing Nutrition Dietetics and Agriculture (WANDA)
Workers: Alianza Nacional de Campesinas
Agenda
8:00 AM - 9:00 AM
Registration and Networking
9:00 AM - 9:05 AM
Welcome
---
Angela Huffman, Farm Action
9:05 AM - 9:15 AM
Feeding the World? We Aren't Even Feeding Ourselves
---
Scott Faber, Environmental Working Group
9:15 AM - 9:25 AM
Industrial Agriculture and the Loss of Human Health
---
Zach Bush, MD, Farmer's Footprint
9:25 AM - 9:45 AM
Ending the Contradiction: Realigning Farm Programs for a Healthy Food System
---
U.S. Senator Cory Booker
9:45 AM - 10:10 AM
Freeing the Farmer From the Industrial Agriculture Treadmill
---
Kara Shannon, American Society for the Prevention of Cruelty to Animals; Samantha Gasson, Bull City Farm and Food Animal Concerns Trust; Sherri Dugger, Dugger Family Farm and Socially Responsible Agr...

10:10 AM - 10:45 AM
Successful Farms Feeding Their Neighbors
---
Lena Brook, Natural Resources Defense Council; Donna Pearson McClish, Common Ground Producers and Growers; Phillip Barker, Operation Spring Plant; Bryn Bird, Bird's Haven Farms; Mike Callicrate, Ranc...

10:45 AM - 11:00 AM
The Economics of Farmers Feeding Their Neighbors Healthy Foods
---
Alison Grantham, PhD, Grow Well Consulting
11:00 AM - 11:30 AM
Policy Actions for a Shift to Food Not Feed
---
Joe Maxwell, Farm Action and Jake Davis, Local Root Strategies
11:30 AM - 11:55 AM
Participant Conversations
---
Kristen Grimm, Spitfire Strategies
11:55 AM - 12:00 PM
Closing Remarks
---
Angela Huffman, Farm Action