Name :
Food İstanbul Food & Beverage, Food Processing, Storage, Cooling Technologies, Logistics and Store Equipment Fair
Date :
5 - 8 September 2018
Venue :
Cnr Expo Yeşilköy / İstanbul - TURKEY
Organizer :
ITF
Istanbul Fuarcılık A.S. / CNR HOLDING
Supporters :
Istanbul Exporters' Association
Visiting Hours:
10:00-19:00 Every Day
Exhibitors Profile
Why should you exhibit?
Get the opportunity to connect with buyers and exporters, enlarge your sales network and create new sales opportunities.
Position your brand in the leading platform where the heart of the industry beats.
Meet with qualified national and international buyers, expand your market share.
Share your ideas, find solutions and fulfill your needs with key players of the market.
Have the chance to introduce your goods in the right place to the adressed and selected audience.




Exhibitors Profile
Meat & Meat Products Producers
Fish, Molluscs & Shellfish Producers
Poultry Producers
Fruit, Vegetables & Dried Fruits Producers
Delicatessen & Ready-Prepared Dishes Producers
Dairy Products Producers
Confectionery, Biscuits & Pastry Producers
Organic Products Producers
Gourmet Products Producers
Local and Specialized Products Producers
Non-Alcoholic Beverages Producers
Alcoholic Beverages Producers
Pet Food Producers
Storage & Cooling Technologies Producers
Store & Market Equipments Producers
=============================
15 sq meter? DESIGN BOOTH & SPACE
=============================
- Wooden custom design
- 2 x Glass Tables
- 8 x Chairs
- 1 x LCD TV
- Counter & Stool
- Room with door
- Lighting
================================
Other Included Amenities
================================
- Hotel Accommodation: 5 nights for 2 person in nearby 5 star Hotel
5 min away from Exhibition Center (Wyndham, Radisson Blu)
- Airport transfer to Hotel
- WiFi for 2 person
- Catalogue Registration
- Email marketing activities to 400K visitor database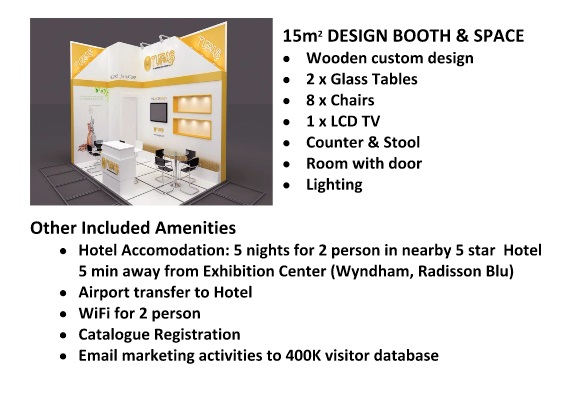 Please contact the event manager Marilyn (marilyn.b.turner(at)nyeventslist.com ) below for:
- Discounts for multiple participants.
- Require a price quotation.
- Require to pay by wire transfer or PayPal
- Invitation letter for visa applications

NO REFUNDS ALLOWED ON REGISTRATIONS
Service fees included in this listing.
-----------------------------------------------------------------
This Event is Brought to You by:
CNR Holdings, A.S. - NewYorkEventsList
http://www.NyEventsList.com
http://www.BostonEventsList.com
http://www.SFBayEventsList.com
-----------------------------------------------------------------
MYL171103CEV MAR180106UPD