Description
This is a 2 session course.
Monday June 5 & 12 from 7pm-9pm
Modern farming is built for monocultures with its large scale machines dispersing synthetic fertilizers, pesticides and herbicides and the collateral destruction of biodiversity and seasonal harvesting. Permaculture is agricultural ecosystems intended to be sustainable and self-sufficient, leveraging biodiversity instead of destroying it. How can we design systems that address the individual needs of permaculture ecosystems at the scale of monocultures? How can we combine the ancient and analog practices of using biologicals (soil microbes, fungi, bio-pesticides) with newer scientific methodologies and technologies to maximize our food yields without sacrificing taste and health benefits and not destroy our planet in the process?
In this class we will look at speculative and ecosystem design, biotechnologies related to agriculture, top down and bottom up design and the scalability of these systems and practices. Students will work on small design-build projects that incorporate elements of contemporary technologies, current science and applicable methods of observation and analysis into centuries old practices of biodiversity and permaculture. We'll also be workshopping with some Mars grade soil designed NASA's jet propulsion lab to imagine other paradigms of food futures.
Instructor: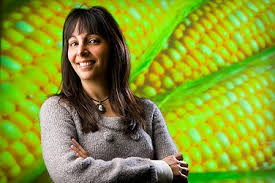 Stefani Bardin explores the influences of corporate culture and industrial food production on our food system and the environment. She works with neuroscientists, biologists and gastroenterologists to ground her research in the scientific world. These investigations take the form of single and multi-channel videos, immersive and interactive installations as well as tools for measuring and/or mediating these influences.
In January 2015 she will begin a residency at the Interactive Telecommunications Program at NYU where she will also teach classes in Food + Technology + Science + Design. In Spring/Summer 2014 she did a Process Space Residency with the Lower Manhattan Cultural Council on Governor's Island and was an artist in residence at Eyebeam Art + Technology Center from 2010-2012. She is based in New York and teaches at Parsons The New School For Design, and in the Graduate Food Studies Program at NYU.