Description
La traducción al español mas debajo.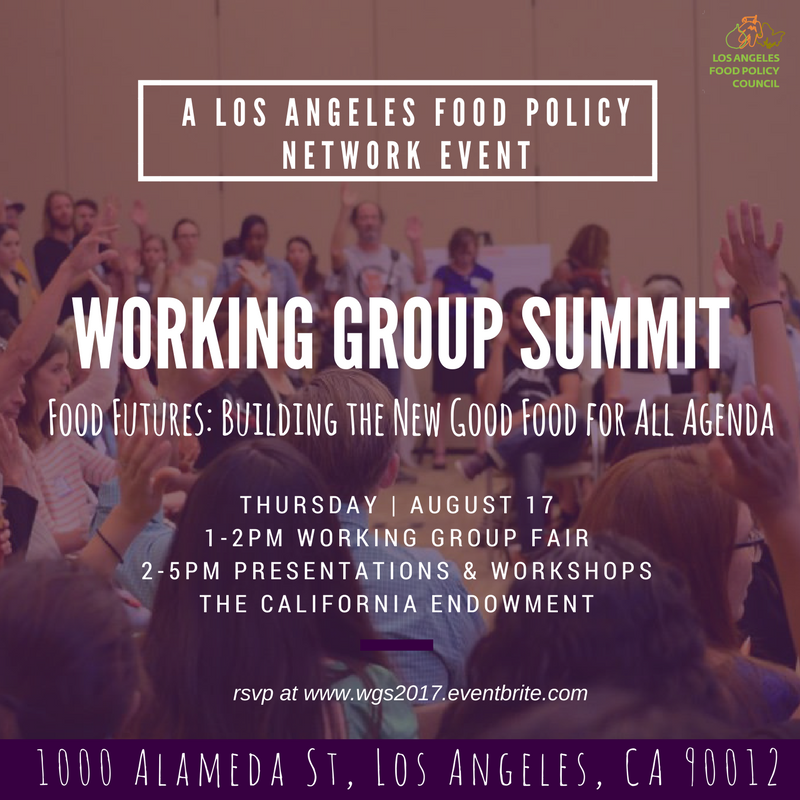 How can we ensure that every Angeleno has access to good food - food that is healthy, fair, sustainable and affordable?
Join the LA Food Policy Council on Thursday August 17th for the 2017 Working Group Summit, #FoodFutures: Building the New Good Food for All Agenda. Weigh in on what's next for food policy in Los Angeles and learn about the ways in which our Good Food movement can better center equity at every level of transformational change in our food system.
At the summit, we'll review the latest updates of the Good Food for All Agenda, a blueprint for policy makers to help steward decisions around food policy in Los Angeles that reflects the priorities of the Good Food Movement. We'll also workshop our "Good Food Ethics," a set of principles designed to promote shared understanding of how to practice our values, define success and hold ourselves accountable to not inadvertently perpetuating inequitable systems or harmful behavior in our everyday work and organizations.
Space is limited. Reserve your space today!
Interested in volunteering at this event? Fill out our volunteer form here!
We strive to make our events accessible. The venue is wheelchair accessible. Spanish language interpretation will be available. If you have inquiries regarding translation and interpretation, please contact Camille at cdelavega@goodfoodla.org.
---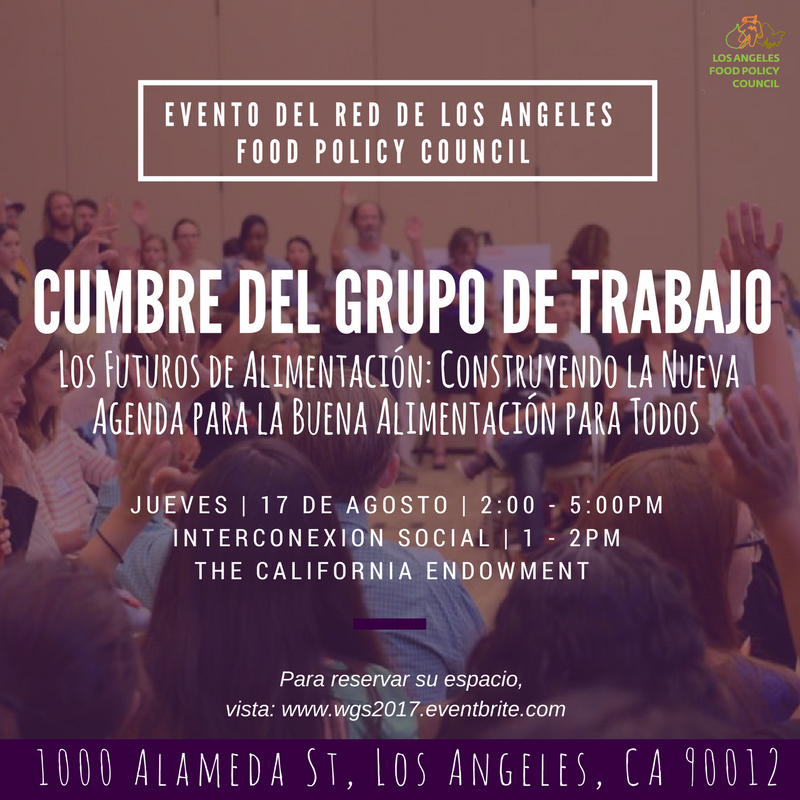 ¿Cómo podemos asegurarnos de que cada Angeleno tenga acceso a buena comida - alimentos sanos, justos, sostenibles y asequibles?
Únase con el Consejo de Política de Alimentos de LA, el jueves 17 de agosto para la Cumbre del Grupo de Trabajo de 2017, #FoodFutures: Construyendo la Nueva Agenda para la Buena Alimentación para Todos. Comparte sus ideas en lo que sigue para la política de alimentos en Los Ángeles y aprenda sobre como nuestro movimiento para la Buena Alimentación puede centrar mejor la equidad en cada nivel sistémico para el cambio transformacional de nuestro sistema alimentario.
En la cumbre, revisaremos las últimas actualizaciones del Agenda para la Buena Alimentación para Todos: el plan para que los políticos ayuden a dirigir decisiones sobre política alimentaria en Los Ángeles que reflejan las prioridades del Movimiento de Buena Alimentación. También haremos talleres sobre nuestros principios éticos, los "Éticos de Alimentaria", guía para promover la comprensión compartida de cómo practicamos nuestros valores, definimos nuestro éxito y hacernos responsables de no perpetuar inadvertidamente sistemas desiguales o comportamientos dañinos en nuestro trabajo, organizaciones, y nuestras vidas cotidianas.
El espacio es limitado. ¡Reserve su espacio hoy! Más detalles próximamente.