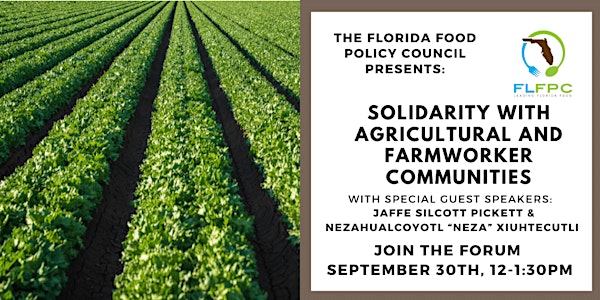 Food Forum – Solidarity with Agricultural and Farmworker Communities
Solidarity with Agricultural and Farmworker Communities, Updates from the Experts
About this event
Join us
Register for free on Zoom at:
https://us06web.zoom.us/meeting/register/tZwpceCgrjgsEtWbQ2Va5JR9c5Ufzk63nGgI
*Eventbrite registration is not available for this event. This page is for information only. Please use the link above to register for the webinar on Zoom. Registration is required.
**How to Join the Webinar***
1. Register using the Zoom link above. (Registration is FREE)
2. An access link will be sent to your email.
3. Open Zoom with the link or dial-in by phone:
- If you are on a computer or mobile: The forum can only be accessed from the Zoom app.
Note** If you join online, please mute audio and turn off cameras before entering the meeting.
- If you join by dialing-in using the phone: Please press * (star) then 6 to must and unmute while on the call.
About the Forum:
This months Food Forum is about "Solidarity with Agricultural and Farmworker Communities, Updates from the Experts"
Expert Speaker Information:
Nezahualcoyotl "Neza" Xiuhtecutli is the General Coordinator of the Farmworker Association of Florida where he has worked since 2016 as part of the organization's research team. In 2020 he accepted his current position. Before joining the Association, Neza spent 10 years working with rural communities in central and southern Mexico and Central America, as part of his doctoral work in anthropology where he became interested in indigenous economic systems and forms of governance. He is also finishing his Ph.D. in anthropology at Tulane University and has been in Florida since 2011.
Jaffe Silcott Pickett is the Executive Director and CEO of Florida Rural Legal Services Inc. When she was selected for the position in 2019, she made history as the first black woman in FRLS' 55 year history to ever lead the non-profit law firm covering Central and South Florida. Ms. Pickett has dedicated her entire career to assisting vulnerable and low-income individuals, families and communities. She practiced for 15 years helping underserved communities as an attorney in Alabama. Ms. Pickett attended Troy University where she graduated Cum Laude. Ms. Pickett served as a student-panelist on President Clinton's student race initiative for Troy University. Ms. Pickett was also inducted into the Gamma Beta Phi Honor society and was selected as Who's Who Among College Students in 1998. Ms. Pickett attended Law School at Louisiana State University and graduated with dual degrees earning a bachelor's degree in Civil Law Studies and a Juris Doctorate.
As a law student Ms. Pickett co-founded Unification of Diversity Under the Law and began to assist incarcerated persons in Louisiana prisons, including Angola prison in New Orleans. She also volunteered at the Center for Constitutional Justice in Baton Rouge. After law school Alabama she became an Attorney at Legal Services advocating for the elderly and later joined the executive leadership team and served as Deputy Director and Acting Executive Director. Ms. Pickett was also selected as a member of the Class 9 Leadership Forum by the Alabama State Bar. Ms. Pickett has been a long-time advocate for issues surrounding the criminalization of poverty and criminal justice restructuring. She has offered testimony to the Department of Justice on hate crimes as well as the Alabama advisory committee to the U.S. Commission on Civil Rights. Ms. Pickett has spoken around the country on the criminalization of poverty, racial injustice, and economic equity and led a group visiting Capitol Hill to provide education on economic opportunity legislation in 2018.
Ms. Pickett is a published author, writing and illustrating "A Guide for Community Redevelopment & Economic Improvement Projects: A Replication Guidebook for Legal Aid and Community Organizations" in 2019. In 2019, Ms. Pickett was selected as one of 13 leaders across the country to participate in The National Legal Aid and Defender Association's Transformational Leadership Institute, Class One, and in 2021 was selected as Who's Who in America. 
Forum Host:
Erica Hall has an extensive background as a community organizer, advocate, trainer, Board member, and Senior Legal Professional who has worked in urban agriculture, food policy, community engagement, neighborhood revitalization, historic preservation and community economic development. She is the Chair of the Board of Directors at the Florida Food Policy Council.
The Florida Food Forum is a free event and a recording will be made available to the public after the webinar. To support our work, please consider becoming a member or making a donation.
Questions? Contact us at: info@flfpc.org
For more information visit us at www.flfpc.org
Disclaimer: The views of the presenters do not represent the views of the Florida Food Policy Council. We are a forum for the offering and sharing of information and encourage diversity and communication within the food system.