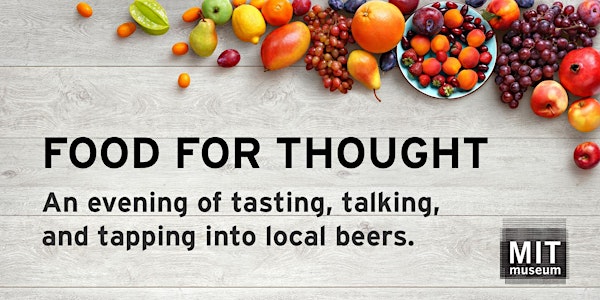 Food for Thought & Beer Bash with the MIT Museum
When and where
Location
MIT Museum 265 Massachusetts Avenue Cambridge, MA 02139
Refund Policy
Refunds up to 7 days before event
Description
*Food tasting tickets have sold out! Beer Bash tickets are still available!*
Prepare your taste buds for a night of food, science and culture! Join us at the MIT Museum as we speed-geek our way around the block in a progressive dinner adventure that could include gourmet sticky buns, tacos, freshly-brewed coffee, local wine, burgers, or sake. Then, enjoy a late night at the Museum and explore at least 12 tastings of products from local breweries!

7:00 to 9:00 p.m. Food, science & culture tastings

8:30-10:30 p.m. Beer Bash @ the MIT Museum
Tastings (Seating begins at 6:45 p.m. and you must be 21+ to attend.) *Food tickets have sold out*
Gather your friends and choose one of three different tracks that celebrate food, culture and science as represented on our block (181-313 Mass Ave, Cambridge). Enjoy special tastings and hear from the minds behind the venues -- chefs, founders -- who will discuss baking science, the evolution of coffee, the archaeology of the city of Saloniki, and more! Participants in this portion of the event will check-in at the first venue listed on their ticket and end at the MIT Museum in time for the Beer Bash.

Venues include:
PAGU - Creating Artificial Intelligence for Flavor Discovery: Tracy Chang (PAGU Chef and Founder) and Beth Altringer (Harvard Professor)
Darwin's - The Evolution of Coffee Brewing: Steven Darwin (Founder)
Heartbreak Hill Running Company - How to Run A Marathon in Less than 2 Hours: Justin Burdon and Dan Fitzgerald (Founders). Running fuel provided by Mother Juice. Be prepared to take a brief running test, so wear your running shoes or borrow some at the venue.
Craigie on Main - How to Make the Best Burger: Tony Maws (Craigie on Main Chef and Founder)
Naco Taco - Tasty Tales with Tortillas: Norlan Taborda (Naco Taco Chef)
Toscanini's @ the MIT Press Bookstore - Creamy, Cultured & Cold: Gus Rancatore (Founder)
Central Bottle - Two of a Kind: Wine & Cheese: Lisa Collins (Cheesemonger) and Liz Vilardi (Founder)

Flour Bakery - The Science of Baking: Sarah Wallace (Flour Pastry Training Chef)
Saloniki - Greek Hospitality and the City of Saloniki: Jonathan Mendez (COO and Co-Founder)
Beer Bash and Late Night Admission to the MIT Museum, 8:30 p.m. to 11:00 p.m. (You must be 21+ to attend; beer tasting ends at 10:30 p.m.; separate ticketing available.) *Beer Bash advance ticket sales end at noon on 7/18 - tickets will be available at the door for $30*
Can't make it to the food & culture program? No worries, as the night will just be getting started! Join us for an opportunity to sample beer from some of the best local brewers in the greater Boston area. Each ticket includes 12 tastings of a variety of beers and ciders as well as after-hours admission to the MIT Museum. And, use your event wristband to receive discounts from participating sponsors!
Confirmed Brew Partners:
Stay tuned -- there is more to come!
A special thanks to the Central Square Business Association.