Description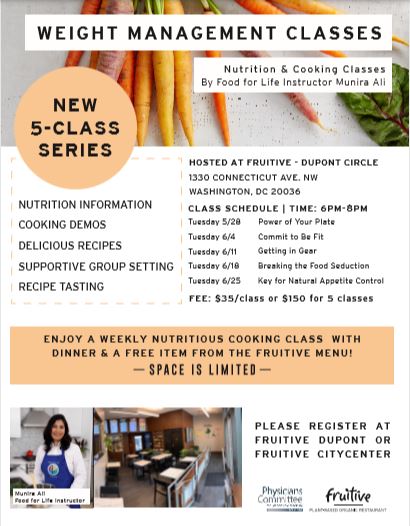 This 5 class series will take you on a plant-based eating journey where we will equip you with the right tools and knowledge which will help you achieve optimum health.
This dietary plan is based on Dr. Neal Barnard's research in managing and even reversing chronic diseases. We have the testimonies of most of the past attendees, reporting better health outcomes, increased energy levels, and healthy weight management.
The five class series will be on the following topic:
Tuesday, May 28 Power of Your Plate
Tuesday, June 4 Commit to be Fit!
Tuesday, June 11 Getting in Gear
Wednesday, June 19 Breaking the Food Seduction
Tuesday, June 25 Keys for Natural Appetite Control
3 recipes every week !!
Enjoy a nutritious cooking class with dinner and a complimentary item from Fruitive menu.
Fee: $35 per class / $150 for all 5
Participants will also:
Learn to cook easy, healthy and seasonal plant-based dishes. Discover simple and effective ways to incorporate healthy eating into their busy life

Learn how to navigate grocery store aisles with a creative, health-minded eye. Find out the science behind losing weight, not by eating less but eating right

Learn how plant-based food can improve your quality of life

Get nutrition information, in a like-minded group setting

Get the recipe and other nutrition handouts

Enjoy Samples from a live cooking demonstration of the delicious recipe along with a complimentary dinner item from Fruitive.
Register fast as the seats are limited. To book all 5 classes at a discounted price of $150, register at either of the Fruitive locations Dupont / City Centre or email @alimunira03@gmail.com.
Thank you.