Food For Life: Kickstart Your Health - Cooking and Nutrition Classes

Weekly Event - Every Sunday: 4:00 PM to 6:00 PM (PDT)
Event Details
Research has shown that certain dietary patterns can help prevent diabetes, cardiovascular disease, cancer, and other chronic diseases. Lowering cholesterol and blood pressure while improving energy, skin and mood are some of the many benefits people experience on this diet. According to the American Diabetic Association, "Appropriately planned vegetarian diets, including that of total vegetarian or vegan diets, are healthful, nutritionally adequate and may provide health benefits in the prevention and treatment of certain diseases." Learn how to make a qualitative shift in the way you eat as opposed to a quantitaive one.
PCRM's Food For Life: Kickstart Your Health classes offer a unique opportunity to:
Learn about various health topics including blood pressure and digestion

Discover which foods are optimal for weight management

Learn the practical cooking skills needed to help you on your journey to better health
In the Food For Life: Kickstart classes, attendees do all of this while enjoying a cooking demonstration and tasting delicious, healthful dishes in a supportive environment.  
Class 1: July 28th: The Power of Your Plate 
Green Monster Smoothie

Braised Kale 

Quick Black Bean Chili
Class 2: Aug. 4th: Let's Go! 
Green Apple and Cinniman Oatmeal

Chickpea Salad with Orange Miso Dressing

Portobello Fajitas
Class 3: Aug. 11th: Getting in Gear
Breakfast Tofu Scramble

Mexican Kale and Blue Corn Salad

Orzo with Tomatoes, Basil, Peas and Pine Nuts
Class 4: Aug. 18th: Breaking the Food Seduction
Fruited Breakfast Quinoa

Red Curry Chickpea 

Sweet Potato Soup

Ginger Noodles
Class 5: Aug 25th: Keys for Natural Appetite Control
Refreshing Mint 

Smoothie

 Curried Tomato Lentil Stew

 Brown Basmati Rice
This is a 5-class series. Sign up for all five classes for $90.00 or enjoy a single class for $20.00 Cost includes class handouts, cooking demonstrations and the tasting of the meals prepared in class.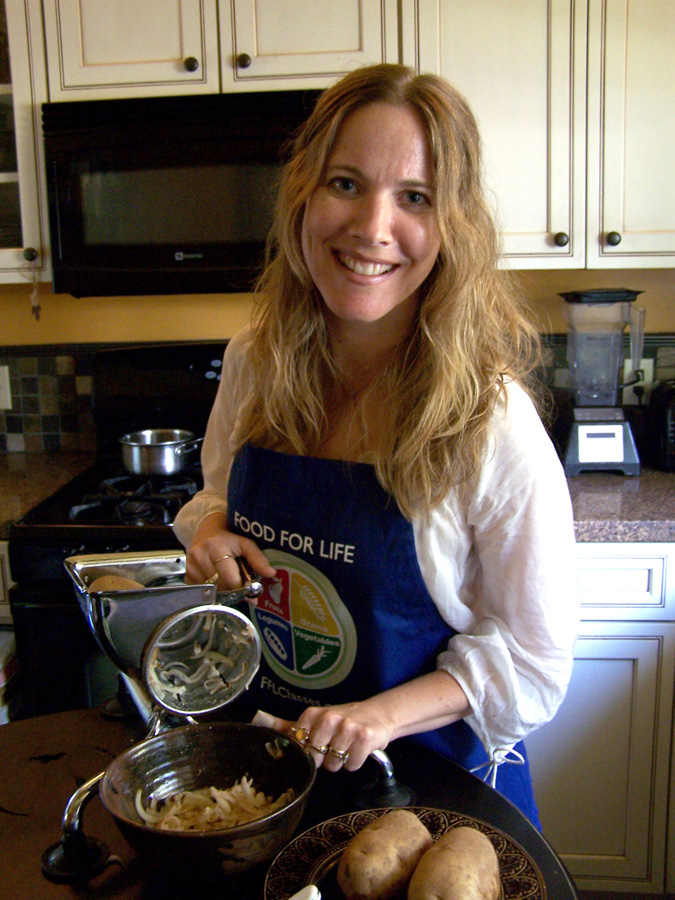 The Food For Life program is a community-based nutrition education program of the Physicians Committee for Responsible Medicine (PCRM).  PCRM is a nonprofit organization advancing preventative medicine, primarily good nutrition, and supports higher standards in research.
Registration may also be done via mail or in person.  Please contact Instructor Elizabeth Federman at efederman_ffl@yahoo.com prior to the commencement of classes. 
Cancellation Policy:  There will be a $15.00 cancellation fee per registrant up to a week before classes begin.  After that, no refunds will be accepted. 
There is a suggested text for this class: 21-Day Weight Loss Kickstart by Dr. Neal Barnard. Find it here at http://www.pcrm.org/shop/byNealBarnard/21-day-weight-loss-kickstart
Whether you are anxious to get a jumpstart on weight loss or already know about the benefits of a plant-based diet, this book is the kickstart you've been waiting for. With more than 60 recipes, daily meal plans for the 21-day program, tips for grocery shopping, and more, this book will teach you how to make the best food choices and get your body on the fast track to better health.
 Elizabeth was the Featured Food For Life Instructor for PCRM for the month of Jan.  Read her story here! http://www.pcrm.org/health/diets/ffl/newsletter/food-for-life-instructor-spotlight-elizabeth
Find out more about Instructor Elizabeth Federman at PCRM's website. https://secure2.convio.net/pcrm/site/Donation2?df_id=12221&12221.donation=form1&JServSessionIdr004=0na95eh8d4.app209b
What Class Attendees Are Saying:
"Elizabeth is very knowledgeable and thorough in her presentations and explanations, and her cooking hints were so valuable as well. We learned so much and got to sample a wide variety of foods. A totally positive experience, this class is highly recommended."
Marjorie, Van Nuys, CA
"Our instructor was phenomenal. She was so well prepared and thoughtful in her approach. Elizabeth is very easy to talk to and very knowledgeable. Even thought of economics. She didn't miss a beat and made it so easy and fun. I feel better than I ever have!"
Nicole, Huntington Beach, CA 
Special thanks to Pastor Richard Poole and the Session at Faith Presbyterian Church of Valley Village for their enthusiastic support and for their generous donation of use of facilities for these classes!

Food For Life
Kickstart Your Health
Where

Faith Presbyterian Church of Valley Village
5000 Colfax Ave
Los Angeles, CA 91601


Weekly Event - Every Sunday: 4:00 PM to 6:00 PM (PDT)
Add to my calendar
Food For Life: Kickstart Your Health - Cooking and Nutrition Classes