Food Folks & Fund$ Seminar & 7-Week Mastermind Group w/ TracyMac & Deanna H...
Description
Food, Folks and Fund$ 2-day Health & Wealth Seminar was so phenomenal, we want to invite and welcome you to be a part of our
"Food, Folks and Fund$" 7-week Mastermind" Group that will be meeting on
Sundays from 3-6pm
February 11th – March 25th.
We have so much planned for you and we'll be doing field trips, too! Here's what you get: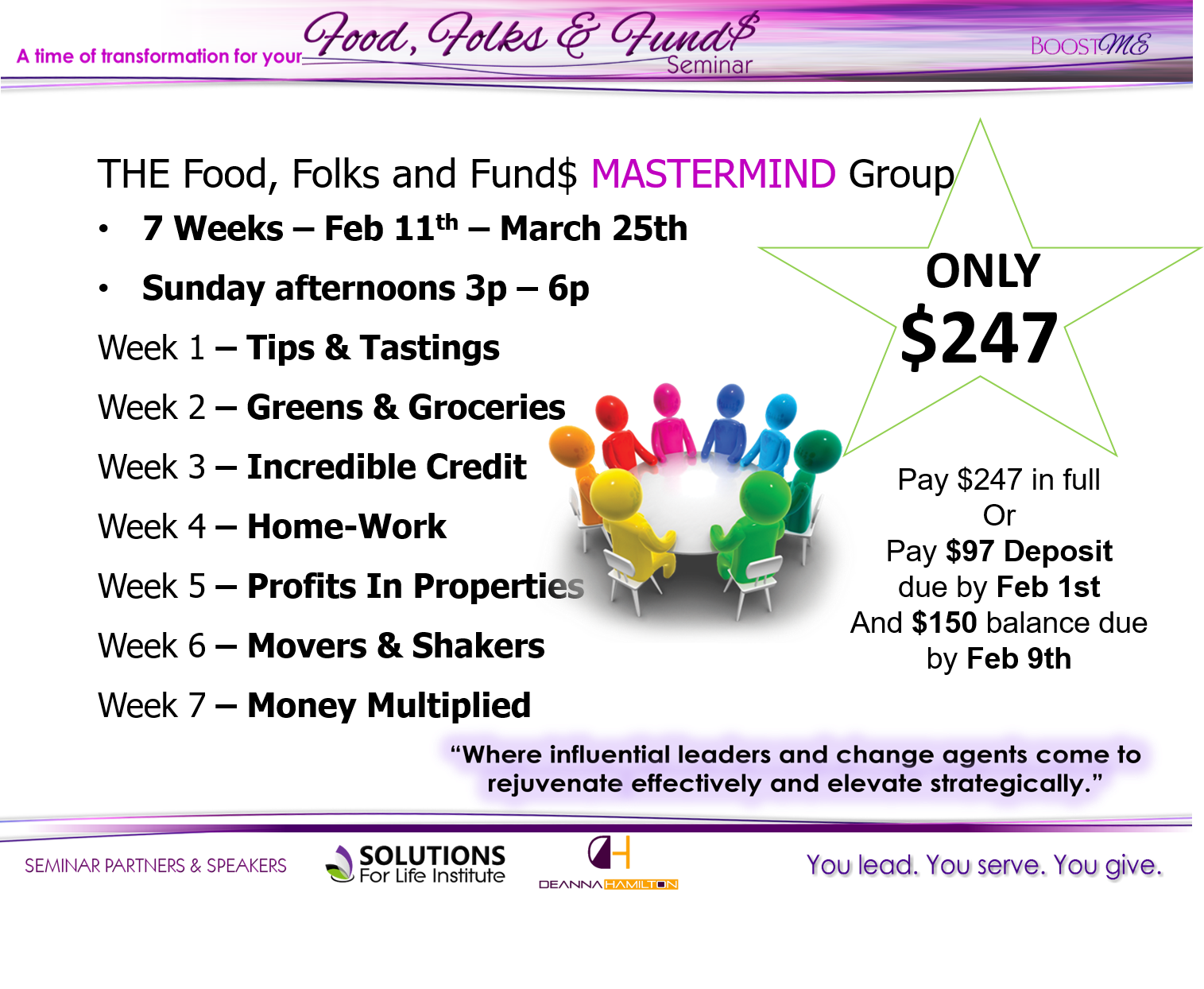 We're offering 7 incredible weeks to support your, even greater and continual, holistic transformation. You get the opportunity to:
Meet and connect with like-minded people
Transform individually and collectively
Have fun implementing life-changing solutions
Create your own success plan
Better your health
Grow your
Register NOW for this tremendous value of $247. Yes, 7 weeks for only $247! You can pay in full by Feb 9th or, for your convenience, you can pay a $97 deposit by February 1st to reserve your spot and pay the remaining balance of $150 by February 9th.
We'd love to serve you and hope you will give us the opportunity to do so, as we continue to "Aspire to Inspire" - "On purpose. Through mission. With Passion & Compassion"!
We value you and look forward to hearing from you soon.
In Gratitude,
TracyMac & Deanna Hamilton
(If you'd like read the announcement about our Food, Folks and Fund$ 2-day Health & Wealth Seminar that was held on Jan 26th & 27th and learn more about dynamic facilitators, check out the information below. )
BoostMe was so successful we transformed, past attendees transformed and we transformed the seminar! Join us for Food, Folks and Fund$ - Health & Wealth Seminar!
TracyMac and Deanna Hamilton have partnered again to offer you Healthier Habits ~ Life Transformations ~ Make & Manage Money
You lead. You work. You give. You serve. Now, YOU need a transformational boost for your food, folks and funds!
Come enjoy and receive:
SOLUTIONS for real change about your FOOD, FOLKS & FUND$

Healthier Habits action steps for HEALTH GAINS & WEIGHT LOSS

Strategies to make and Manage MORE MONEY

PERSONAL BRAND & ANSWERS for Personal & Professional Relationships

CLARITY to REVIVE your dream & RESET goals

Inspiration & ENCOURAGEMENT

On-the-spot personal and Group Coaching Opportunities

Great Giveaways!
Who pours into you when you need rejuvenation, fresh ideas, or a reset? Where do you go to be re-energized and connect with like minded professionals? How do you learn and implement healthier habits for your spirit, soul and body for peak performance? What about tips for how to make and manage more money that you can use immediately? What do you do when you need a transformation for your health and your boost for your wealth?
We invite you to Food, Folks & Fund$! A seminar created by TracyMac and Deanna Hamilton. "Food, Folks & Fund$" Seminar is specifically for professionals, leaders and business owners who may not necessarily need a structured coaching program or may not have time for full-fledged coaching sessions, but just need to address your:
Food - What are you eating and what's eating you
Folks - Your personal and professional relationships
Fund$ - Your money, success and wealth
TracyMac, The Life Solutionist and CEO of TRACYMAC Coaching Services and Solutions for Life Institute is a certified, 15-year life coach, 3-time Amazon best selling author and international speaker /trainer will share self-discovery and personal & professional relationship strategies, health for the spirit and soul, as well as #HealthierHabits for better physical health - that helped her lose 70+ lbs., overcome a lupus diagnosis, fibroids, irregular thyroid, high blood pressure, high cholesterol, diabetes and no longer needs to take 11 different medications - without surgery, teas or shakes (though those products have been very beneficial for many). TracyMac's life and health strategies have changed lives and provided sustainable solutions for her clients, men and women alike, on purpose. She lives the strategies and princples she has shared with many others, who have been successful, and is excited to share them with you, too! TracyMac has transformed her health and grown her wealth exponentionally. You too, can be transformed through healthier habits!
*See Nutritional, Medical and Health Disclaimer below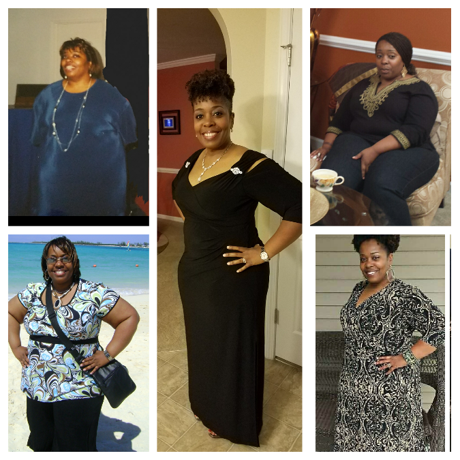 Deanna Hamilton, CEO of Success Coaching Systems, is a multifaceted and award winning business woman! Her credits include television personality, renowned national speaker, author, and licensed real estate broker. She is also known as "The Great Mentor" and the "Money Making Mom." because of her explosive success and results she gets for clients. She grew a home-based business into a substantial company. She has fully embraced healthier habits with the results of remarkably better physical health! Deanna has lost over 35 lbs and 10 inches. She has increased her income by 50%, incorporated additional revenue streams, reduced personal and business debt by 80% and increased her savings by 60% by using the same money management techniques she has shared with her clients. She uses wealthier habits to get indisputable results. Deanna will discuss ways to create revenue streams, generate more income, and principles to manage finances and how to grow wealth beyond money.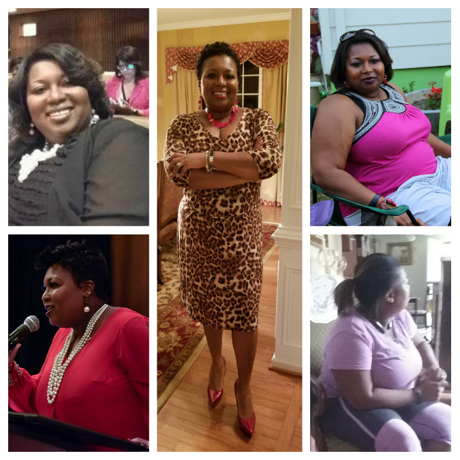 Registration Options
VIP Registration
Food, Folks and Fund$ Seminar Friday, January 26th 7-10pm AND Vision Circle 10pm - 11pm Saturday January 27, 8-9am Full Breakfast, VIP Breakfast and exclusive time with Deanna & TracyMac, Intimate Conversations, Gift bag, Materials Included & Door prizes Opportunities for individual coaching & Networking, Q & A, Gift Bag. Seminar (9:00am - 4:00pm)
Early Bird Registration
Food, Folks and Fund$ Seminar Friday, January 26th 7-10pm & Saturday January 27, 9am - 4pm - Materials Included & Door prizes
General Registration
Food, Folks and Fund$ Seminar Friday, January 26th 7-10pm & Saturday January 27, 9am - 4pm - Materials Included & Door prizes
FAQs
Friday 10-11pm Vision Circle and Saturday 8-9am Breakfast and is for VIP Registrants ONLY - The seminar for early bird and general registration begins at 6pm on Friday and 9am on Saturday
Are there ID or minimum age requirements to enter the event?
18 and older. No children.
What are my transportation/parking options for getting to and from the event?
Free parking
What is the attire?
Relaxed and Comfortable
How can I contact the organizer with any questions?
Deanna@DeannaHamilton.com
TracyMac@LifeCoachTracyMac.com
What's the refund policy?
Registration is non-refundable.
Is my registration fee or ticket transferrable?
Registration may be transferrable. Any requests to transfer registration must be submitted, in writing, by January 15th to tracymac@lifecoachtracymac.com. Approved transfers will be notified via email within 2 business days after submission.
Do I have to bring my printed ticket to the event?
Yes. Please be prepared to present your I.D.
*MEDICAL, HEALTH and FINANCIAL DISCLAIMER
The information provided is not intended to be a substitute for professional medical advice, diagnosis or treatment, nor financial management. Never disregard professional medical or financial advice, or delay in seeking it, because of something you have read on this website, in our reading materials, at our workshops, trainings, classes, sessions or speeches. Never rely on information on this website in place of seeking professional medical or financial advice.
Peace Place, LLC and any of it's divisions (TRACYMAC Coaching Services, TRACYMAC Publishing, Solutions For Life Institute) or any of it's employees, do not sell, promote, advertise nor endorse on behalf of any weight loss or financial management companies, MLM's, products or services.