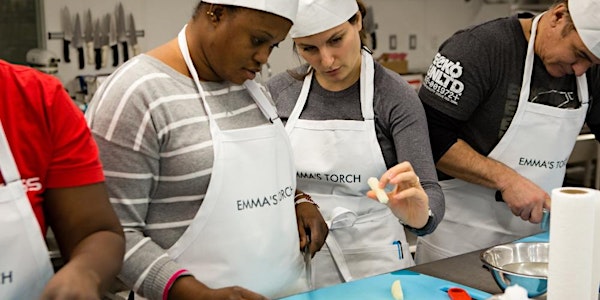 Food Fight: Equality, Opportunity and the Pursuit of Independence
When and where
Location
Connelly Auditorium, Hamilton Building 1001 Locust Street Philadelphia, PA
Description
The Jefferson Humanities Forum is pleased to present visiting speaker Kerry Brodie.
Kerry Brodie is the founder and executive director of Emma's Torch, a New York-based non-profit providing culinary training for refugees as a path to employment that affirms their cultural heritage and cuisine. Brodie began cooking at age five, under the watchful eyes of her grandmother. She is a graduate of the Institute of Culinary Education, where she won the Wusthof Award for Leadership, and holds degrees in Government from Johns Hopkins University and Near Eastern Studies from Princeton University.
Emma's Torch harnesses the power of the culinary industry to help refugees build new lives in their new communities. Since 2016, the non-profit social enterprise has provided top-notch culinary training to refugees and has helped them find meaningful careers in the food industry. Classes are run out of the Emma's Torch restaurant in Carroll Gardens, Brooklyn.
Bloomberg News (video), May 18, 2018
Emma's Torch opening
The Rachel Ray Show (video), May 23, 2018
Food Can Change Lives: The Story of a Pop-Up Restaurant That Trains Refugees From Around the World

WNYC, June 20, 2018
Opportunity for Refugees, Nourishment for New Yorkers

The New York Times, December 11, 2017
New York Today: A Culinary School for Refugees


---
Each academic year, the Jefferson Humanities Forum explores a thought-provoking theme from a wide range of perspectives, inviting reflection and action around how we improve lives. During 2018-2019, the Jefferson Humanities Forum investigates the theme Fusion.
This event and all Jefferson Humanities Forum events are open to the public. Lunch or other refreshments provided; first-come, first-served.