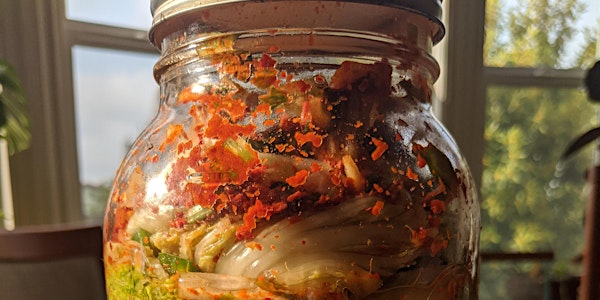 Food Fermentation for Beginners -- Kimchi and Sauerkraut
Are you curious about how to make your own kimchi and sauerkraut? It's easier than you think! Join us to find out how.
Refund Policy
Contact the organizer to request a refund.
About this event
Food Fermentation for Beginners is a fun, hands-on online course designed to teach you everything you need to know about how to make kimchi and sauerkraut through the lacto-fermentation process. You can apply what you learn to continue experimenting with the wonderful world of fermented foods. Not only are fermented foods good for your gut, they provide a great way to preserve the abundance of the fall harvest.
This class will be presented on the Zoom online conferencing platform. It will be recorded only for GFE's archival purposes; it will not be available after the workshop to participants.
Instructor Hannah Shulman loves facilitating, teaching, and gardening. Previously, Hannah led community engagement, land use, and youth environmental programs in prisons, school districts, and the public sector. She holds a Bachelor of Art in the Growth and Structure of Cities from Haverford College and studied at the Center for Agroecology and Sustainable Food Systems at UC Santa Cruz.
_____
If you would like to prepare your kimchi and sauerkraut while the workshop is in progress, you will need the following items:
A cutting board
Knife (the sharper, the better)
At least half a cup of salt (sea salt is best, kosher or rock salt is ok, but no iodized salt)
Water
Two clean glass jars (at least a quart size or larger- can hold at least 32 ounces)
Plastic bag, plate or heavy jar that can fit into the clean glass jars
For Sauerkraut:
Cabbage (red or green or a mix is fine), at least a pound
Optional: apples, caraway, garlic, carrots
For Kimchi:
Napa cabbage, at least a pound
Optional: 3+ cloves of garlic, spicy peppers (dried like gochugaru or fresh), 3T + grated ginger, 1 to 2 carrots, 1 daikon or a few small radishes, seaweeds, etc.
Full garden workshop and volunteer shift schedule