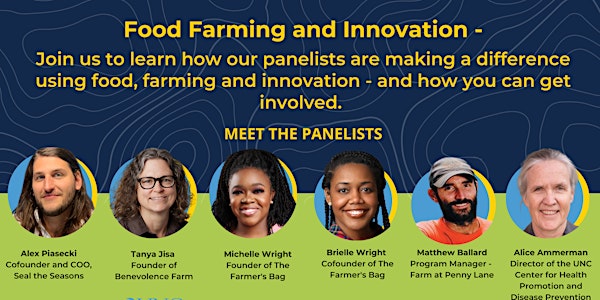 Food, Farming & Social Innovation
Free Panel Discussion on Food, Farming & Social Innovation in New Hub
When and where
Location
367 Freedom Pkwy suite 130 367 Freedom Parkway #suite 130 Pittsboro, NC 27312
About this event
Did you know farming can be therapeutic? Or that a growing business based in Durham is working to end food waste? Have you heard of a UNC- based startup that is making sure people have access to healthy foods, even in a "food deserts?" Learn about all the ways food and farming are making a difference in the community here and throughout North Carolina. Hear from a panel of farmers and food-related business owners as they discuss how what we eat makes a broader impact.
Attendees will
Gain a better understanding of social innovation and entrepreneurship in the farming industry
Be inspired by a panel of startup founders and entrepreneurs working with food
Network with like-minded farmers, business owners, food-lovers & social innovators
Please bring one of the most needed food items to donate to CORA Food Pantry. We will collect items at the door.
Meet the panelists:
Alice Ammerman - Director of the UNC Center for Health Promotion and Disease Prevention Dr. Ammerman is interested in design, testing, implementation and dissemination of innovative clinical and community-based nutrition and physical activity interventions for chronic disease risk reduction in low income and minority populations. She is Director of the UNC Center for Health Promotion and Disease Prevention (HPDP), part of a national network of 26 CDC prevention research centers (PRCs) that work with community partners to identify public health problems to develop and evaluate prevention-focused public health interventions for wide dissemination, particularly in underserved communities.
Alex Piasecki - Cofounder, Seal the Seasons: Alex has a vision for a food system that balances people, food, and profit. As co-founder & leader of Seal the Seasons, he strives to use local supply chains to empower local communities to take better care of one another and to create futures for family farming. Alex is in charge of overall business strategy and operations at Seal the Seasons.
Tanya Jisa - Founder of Benevolence Farm Tanya serves as an Assistant Clinical Professor as well as the Community Education Coordinator for the Social Innovation and Entrepreneurship Lab at UNC Chapel Hill. Tanya founded Benevolence Farm which provides employment and housing for women returning from prison.
Michelle Wright - Founder of The Farmer's Bag. A leader in the mental health space, Michelle Wright is licensed mental health counselor and diversity consultant. She is also co-owner of The Farmer's B.A.G., LLC. She has a background in behavioral health and has spent over 10 years working in diversity, equity, and inclusion. Michelle has a Bachelor of Science degree in Psychology from The Winston Salem State University, a M.S. in Public Health from The University of Tennessee, and a M.S. in Clinical Mental Health Counseling from North Carolina A&T State University.
Brielle Wright - Cofounder of the Farmer's Bag. A pioneer in the agriculture space, Brielle Wright is the co-owner of The Farmers B.A.G. (Blessed, Abundant, & Gifted). She started her career in agriculture by way of obtaining her Bachelor of Science degree in Agribusiness at North Carolina Agricultural & Technical State University. Before co-founding The Farmers B.A.G with her sister, Michelle Wright, Brielle earned a M.S. from Virginia Tech in Agriculture Education and has enjoyed an agriculture career that has spanned across corporate agriculture, government, and the nonprofit sector.
Mathew - Farm at Penny Lane. Matt Ballard is the program manager at the UNC Farm at Penny Lane since 2019, which houses the UNC Center for Excellence in Community Mental Health's innovative mental health recovery programs, such as therapeutic horticulture and other nature-based therapeutic approaches. Previously, he worked for four years as the farm manager at Benevolence Farm, a reentry support services organization in Alamance County, which provides case management, housing and employment programs for women transitioning from prison. Additionally, he worked as a street outreach social worker for Housing at New Hope's PATH program in Orange County, linking individuals experiencing homelessness with serious mental health disorders to community services.