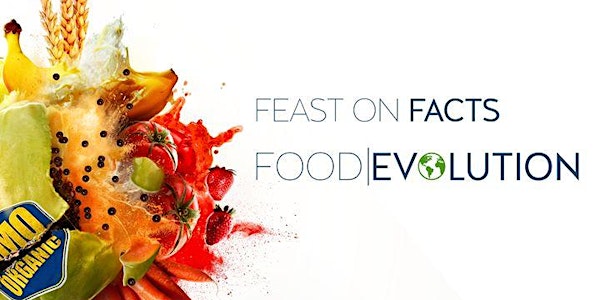 "Food Evolution" Film Screening & Discussion
When and where
Location
ArcLight Cinemas - Chicago 1500 North Clybourn Avenue #c301 Chicago, IL 60610
Description
Genetically modified food is one of the hottest, and most debated, topic in public policy that's based on scientific research. Opinions on the subject are passionate, and often polarizing, but do not fall along typical political lines.
Amid all this conflict and confusion around food, how do we make the best decisions about how we feed ourselves?
Three organizations -- Illinois Science Council, Illinois Farm Families & Chicago Section, IFT -- are teaming up to host a public screening and discussion of a new documentary film, Food Evolution, about the science behind, and the debates around genetically modified food. Following the film, there will be a Q&A session with farmers and food researchers.
Doors open at 6:30pm. Film starts at 7:00pm. Panel discussion at 8:30pm
This film is not rated. Film will be captioned.
Panelists:
Stephen Moose, PhD in Genetics and Crop Science, Professor in College of Agricultural, Consumer and Environmental Sciences at University of Illinois at Urbana-Champaign; has taught undergraduate course on crop biotechnology for over 15 years.
Katie Pratt, central Illinois farmer grows corn, soybeans and seed corn with her husband Andy where they raise two children. Katie is the Lee County Agriculture-In-the-Classroom Coordinator, helping inform and educate youngsters about food and farming.
Sunny D. Gilbert, PhD in biochemistry from University of Colorado-Boulder; Project Scientist at Cofactor Genomics working in cancer research.
There will be no reserved seating for this event. Concessions, which include beer & wine, will be available for purchase. Validated parking is available in the New City parking garage for $5.50. for up to 5 hours. Enter from the plaza or on Schiller Street.
Additional information:
New York Times Review: In 'Food Evolution,' Scientists Strike Back by Daniel M. Gold
"With a soft tone, respectful to opponents but insistent on the data, "Food Evolution" posits an inconvenient truth for organic boosters to swallow: In a world desperate for safe, sustainable food, G.M.O.s may well be a force for good."
L.A. Times Review - Documentary 'Food Evolution' turns to reason to discuss GMO controversy by Kenneth Turan
"Calm, careful, potentially revolutionary, "Food Evolution" is an iconoclastic documentary on a hot-button topic. Persuasive rather than polemical, it's the unusual issue film that deals in counterintuitive reason rather than barely controlled hysteria."
Is 'Food Evolution' propaganda? No! Just an accessible presentation of a tough topic
Film review by David Zilberman, professor, agriculture and resource economics, July 14, 2017

"Food Evolution" – the ever evolving science
Film Review by Ben Gordon, July 16, 2017

By Brian Barth February 27, 2017