Description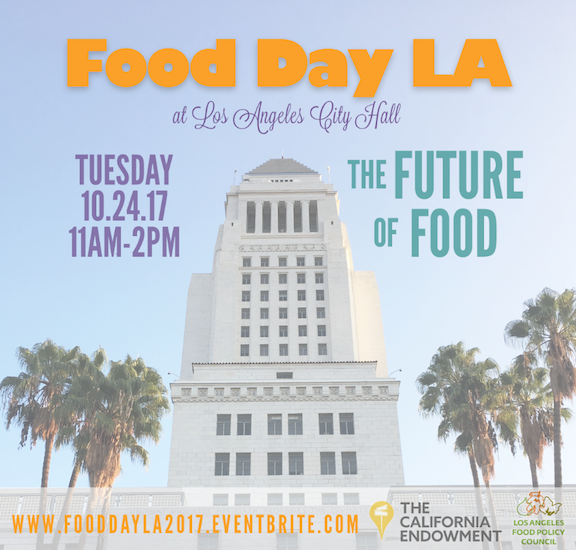 This Tuesday October 24, join us for Food Day at City Hall. We'll celebrate this year's victories and make tangible our vision for the "Future of Food" to improve our food system.
The LA Food Policy Council will start the day with a Food Day Resolution in Council Chambers at 10am to reaffirm our commitment as a city to create a good food system for all. Following the presentation, please join us as we move to the South Lawn for local eats, the "Future of Food" showcase, the release of the NEW Good Food for All Agenda and more!
WHEN: Tuesday October 24, 2017
WHERE: City Hall. 200 N. Spring Street. Los Angeles, CA 90012
TIME: 11am – 2:00 pm
Agenda
10-11am| Council Chambers:

Food

Day

Presentation + Good

Food

Champions
11am-2pm | South Lawn: Future of Food Showcase (ft. innovative projects, the release of the NEW Good Food for All Agenda, and showcase winners announced!)
*lunch will be provided with registration. Food will be first come, first served, and lunch service will stop at 12:30pm.

Already RSVPed? Fill out
this form
by Wednesday
10/18
and we'll arrange parking for you. Or avoid the hassle and arrive by bike, bus or train! Take the Metro to City Hall:
Red Line
1. Exit at Civic Center/Grand Park.
2. Walk down the stairs, through Grand Park.
3. When you get to Spring St., turn right toward 1st St. to arrive at the south lawn.
Gold Line
1. Exit at the 1st St. Exit
2. Go North on Alameda and cross the street at Temple.
3. Take Temple to Main St.
4. Cross Main St. and make a left down Main.
5. Head passed City Hall on your right to arrive at the south lawn.
When you arrive...
Check in with our team at registration to get a program and a meal ticket.
Help us spread the word!
Twitter:
Save the date! @GoodFoodLA's #FoodDayLA on #FutureofFood this 10/24 11-2pm at City Hall. Support #GoodFood: bit.ly/fooddayla2017
Join me 10/24 at @GoodFoodLA's #FoodDayLA at LA City Hall: Celebrate the #FutureofFood & #goodfood policy wins: bit.ly/fooddayla2017
Here's to a bright #FutureofFood! Celebrate #goodfood this 10/24 at @GoodFoodLA's #FoodDayLA at LA City Hall: bit.ly/fooddayla2017
Facebook:
In celebration of the launch of the NEW Good Food for All Agenda, the Los Angeles Food Policy Council is calling all Angelenos to help bring our collective vision for the #FutureofFood to LIFE on #FoodDayLA this October 24th at LA City Hall. Come ready to share, unpack, and explore our city's most forward-thinking, visionary ideas on the #FutureOfFood! Meet this year's Good Food Champions and recognize the progress of 2017. RSVP at: www.fooddayla2017.eventbrite.com