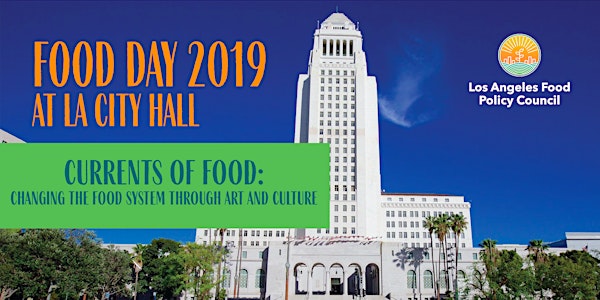 Food Day LA 2019
Food Day is celebrated each year at LA City Hall. Our theme this year is CURRENTS OF FOOD: Changing Our Food System Through Art and Culture.
When and where
Location
Los Angeles City Hall 200 North Spring Street Los Angeles, CA 90012
About this event
Every year in late October across the country, thousands of Americans commemorate national Food Day by bringing diverse communities together to enjoy Good Food and push for improved food policies to end hunger, promote health, protect food workers and care for our environment.
This year, Food Day in Los Angeles takes place during CURRENT:LA FOOD, a month-long event produced by the City of Los Angeles Department of Cultural Affairs that features public art in city parks around the theme of food.
"Food for us comes from our relatives, whether they have wings or fins or roots. That is how we consider food. Food has a culture. It has a history. It has a story. It has relationships." Winona LaDuke, environmentalist and Indigenous activist.
Our theme this year will be CURRENTS OF FOOD: Changing Our Food System Through Art and Culture. Together at City Hall we will celebrate, along with Mayor Eric Garcetti, the various "CURRENTS" of food as art, culture and justice through art installations, performances and an interactive fair. Additionally, each City Councilmember will honor a "Good Food Champion" from their district who creatively brings food culture to life.
This year our Good Food Champions include:
Council District 1: CultivaLA and Madres al Servicio de la Comunidad of Westlake Community Garden
Council District 2: Harvest Moon Kitchen & Marketplace
Council District 3: Sugar Free Market
Council District 4: BLVD Kitchen
Council District 5: Vegan Glory
Council District 6: Kaiser Permanente's Farmer's Market
Council District 7: Jesus de Santiago of Jesus Connection Project
Council District 8: Ajay Relan and Yonnie Hagos of Hilltop Coffee + Kitchen
Council District 9: American Friends Service Committee and All People's Community Center of South LA Community Farm
Council District 10: Jamiah Elijah Hargins of West Adams Crop Swap and Black Women for Wellness
Council District 11: Holy Nativity Episcopal Church for their Community Oven Program and Community Garden
Council District 12: Rosies's BBQ and Grillery
Council District 13: Lupita's Corner Market
Council District 14: Sonoratown
Council District 15: iHeart Wilmington Community Garden
Agenda
10 AM: Food Day Presentation in City Council Chambers
11 AM - 2 PM: Art installations and performances from local artists, Interactive Information Tables by LAFPC Working Groups and partner organizations and food sampling.
Featured artists include:
Alicia Papanek
Alyesha Wise
Food Justice Freedom Choir
Halina Cendry
Heisue Chung-Matheu, SoYun Cho, and Grace Hwang
Lakisha May
Lincoln Heights Youth Arts Center
Neelam Sharma
Teresa Flores
11:30 AM - 12:30PM: Speaker program, including remarks from Mayor Eric Garcetti, and performances.
Metro Directions to City Hall
Red Line
1. Exit at Civic Center/Grand Park.
2. Walk down the stairs, through Grand Park.
3. When you get to Spring St., turn right toward 1st St. to arrive City Hall East.
Gold Line
1. Exit at the 1st St. Exit
2. Go North on Alameda and cross the street at Temple.
3. Take Temple to Main St.
4. Make a left down Main until you arrive at City Hall East.