Description
Join over 20,000 registered foodies and techies for Food Crawl 2013 at SXSW.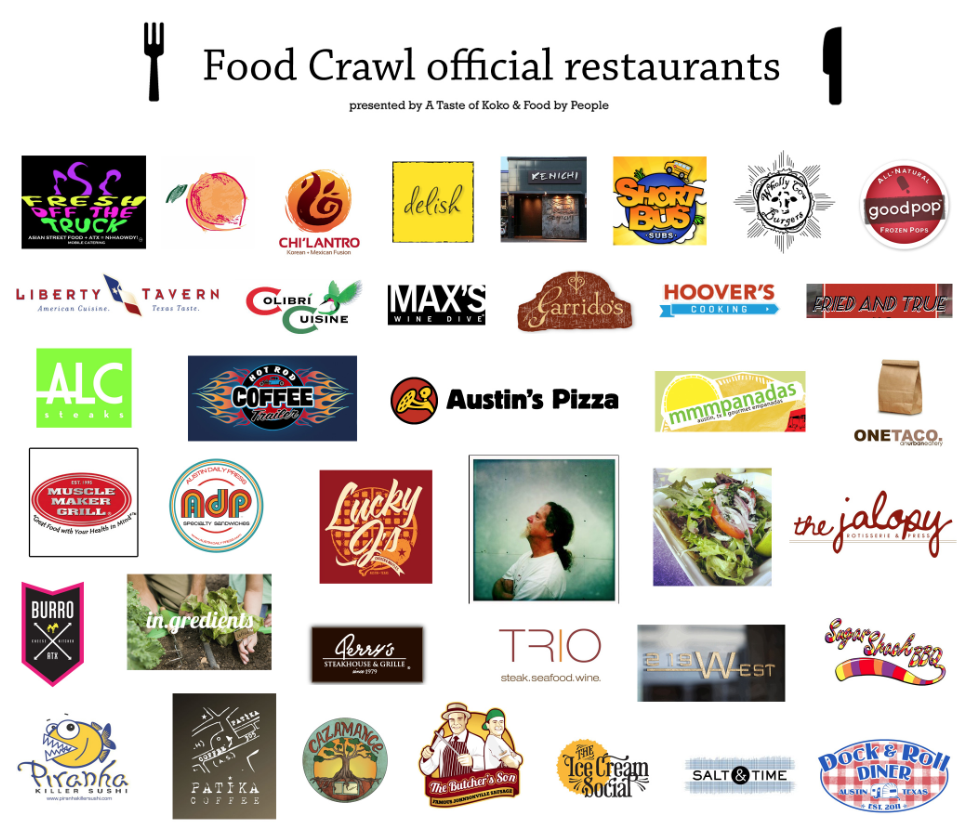 Where food + tech meet. Visit FOODCRAWL.CO for updates on the schedule and notable foodies attending.
We're kicking off SXSW 2013 with an on the move, food crawl-inspired tour celebrating the most buzzed-about eateries, restaurants, food trailers, and local fare in downtown Austin.
Attendees include talented entrepreneurs and notable bloggers in the food scene. This open event encourages networking and lots of eating.
We will be meeting initially at the Terrace of the Long Center for the Performing Arts on Riverside st. for a meet and greet before embarking on the food adventure.
We're bringing together the top foodies and Austin's local chefs to share their personal restaurant recommendations, and the best dishes in town.
Let's talk food blogging, recipes, food photography, social media, and all things delicious.
Join creators, hackers, and techies for the first Food Crawl at SXSW.
Meet the founders of talented food start-ups, learn about upcoming technologies, and witness the next great food idea.
Follow the conversation on Twitter at #FoodCrawl for all food-related SXSW events and where we'll be eating. Need to figure out where to eat in when you're in Austin? Follow Jane Ko at @atasteofkoko
Interested in becoming a sponsor for this event?
We currently have partnership opportunities open. If you would like to be part of this year's event or just want to show your support for Food Crawl, contact me at jane@atasteofkoko.com.
Disclaimer: By signing up for this event you opt-in to receive updates on Food Crawl, as well as future events and promotion from Jane Ko - A Taste of Koko + Citygram + Food by People.