Food. Changed. How to create better food system?
Description
FOOD. CHANGED.
Our global food system is not sustainable. How can we change it for the better?
How will our food grow in the future?
What solutions can science and technology provide?
KEYNOTE BY MARK LYNAS: Anti-science and Populism. Climate change, GMO and nuclear power
Make sure to reserve your seat in the front row of future food. (See full program below).
Organised by Ecomodernist society of Finland www.ekomodernismi.fi
Liput sisältävät lounaan ja kahdet kahvit. Vegaanit myös huomioitu.
Tickets include lunch and two coffees. Vegan lunch also available.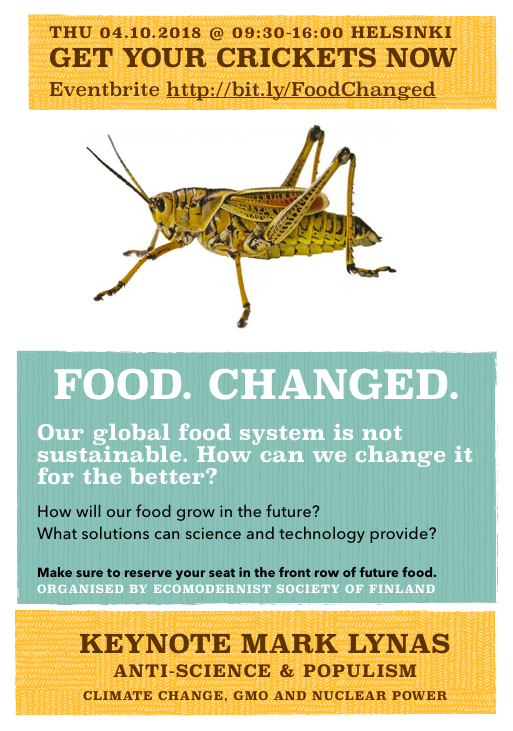 9:15 - 9:45
Breakfast & Coffee
9:45 - 9:55 Opening Words – Mikko Muukki, Ecomodernist Society of Finland (ESF)
9:55 - 10:20 Mythological Roots of Agriculture in Ancient Greece – Harri Juntunen, ESF
10:20 - 10:45 Crickets in a Modern Diet – Mikko Lähdetie, Finsect Oy
10:45 - 11:35 Antiscience & Populism. Climate change, GMO and nuclear power – Mark Lynas
11:35 - 12:35 Lunch
12:35-13:00 Is a carbon-neutral milk chain the future? How do we defuse the manure bomb? – Juha Nousiainen, Valio SVP for primary production and milk procurement
13:00 - 13:25 Challenges and possibilities in vertical farming – Robert Jordas, Robbes Lilla Trädgård AB
13:25 - 13:50 Need for Speed. How can we use artificial intelligence in plant breeding to make climate resilient and more yielding crop varieties? – Jussi Gillberg, Principal Investigator at Aalto University
13:50 - 14:10 Coffee break
14:10 - 14:35 Producing food in closed circulation – experiences – Esko Pettay, Atmosmare Foundation
14:35 - 15:00 Future food is designed and produced in cell factories – Emilia Nordlund, Research team leader at VTT, Food solutions
15:00 - 15:25 Could cultured meat contribute to the sustainability of food systems? – Hanna Tuomisto, Associate Professor, HELSUS and Department of Agricultural Sciences, University of Helsinki
15:25 - 15:55 Panel Discussion
15:55 - 16:00 Closing words