Description
We're hyped to host everyone at Ace Hotel New York for Food Book Fair no. 6!
Check out our schedule Thursday May 11th - Sunday May 14th below: It's organized by day, with further details on individual events. All tickets are available a la carte, from $5 to $150. Come to one talk, workshop or dinner; or come to all.
See you at the Fair!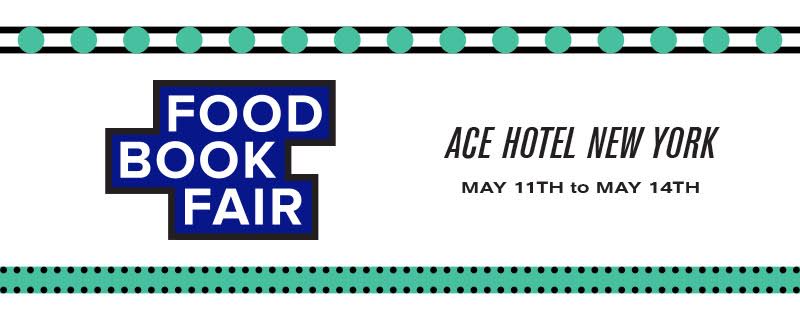 THURSDAY
7 PM | Liberty Hall | DINNER & SOME MOVIES
A night of short films, music, food and drink from around the globe in partnership with our friends and accomplices: film studio On Plate, Cambodian pop-up Kreung and Brooklyn Brewery.
FRIDAY
9 AM - 4 PM | Liberty Hall | FOOD BOOK FAIR SCHOOL (includes LITERARY SPEED DATING)
Join us for a day of breaking bread and breakout sessions with media and publishing pros.
2 PM- 4 PM | Liberty Hall | LITERARY SPEED DATING
A professional matchmaking session with over a dozen literary agents and editors.
6 PM | Liberty Hall | PANEL + DINNER : WHAT WE TALK ABOUT WHEN WE TALK ABOUT EATING
Features top voices in the food world in conversation about how we cook, share, make and eat today: Chef, restaurateur and author April Bloomfield, restaurateur Ken Friedman, chef, author and teacher Samin Nosrat, chef, author, educator, and TV host Mario Batali, New York University professor Myisha Priest, moderated by author and The New York Times columnist Frank Bruni. Dinner featuring chef speakers plus dessert from Nicholas Morgenstern of Morgenstern's Finest Ice Cream and wine from Andre Hueston Mack of Mouton Noir Wines.
SATURDAY
9 AM | John Dory | "TARTINE ALL DAY" BREAKFAST with LIZ PRUEITT & APRIL BLOOMFIELD
Celebrate "Tartine All Day: Modern Recipes for the Home Cook" with breakfast inspired by the book, co-hosted and co-cheffed by two of the bombest bosses we know: chef-author and Tartine godmother Elisabeth Prueitt and chef-author and our festival host-with-the-most April Bloomfield.
10 AM | Loft | WORKSHOP: IDENTITY COOKING WITH MICHAEL TWITTY
Michael W. Twitty leads this discussion-based workshop on how to connect with ancestral cuisine(s) despite genealogical, familial, linguistic and other barriers.
10 AM | Boardroom | WORKSHOP: RIVERHEAD TABLE with KATIE KITAMURA & EMMA STRAUB
Riverhead Books invites readers to meet, greet and eat with the award-winning authors of "A Separation" and "Modern Lovers."
12 PM | Liberty Hall & Lobby | FOODIEODICALS
Our one-of-a-kind, only-at-Food-Book-Fair, signature independent-magazine-festival-within-the-fair is back!
1 PM | Loft | WORKSHOP: FOOD BEYOND BORDERS
This salon explores challenges and transcendence with folks cooking, making and writing in multiple diasporas, featuring White Moustache co-founder Homa Dashtaki, Chakriya Un of the Cambodian pop-up Kreung, cookbook editor Jenn Sit, moderated by "Cooking Solo" author Klancy Miller.
1 PM | Boardroom | SALON: LITERARY SWAG BOOK CLUB: ON JAMES BALDWIN, FOOD, AND SELF-CARE
Join the Literaryswag book club as we talk about the importance of food in Baldwin's life. To ask someone if they've eaten is an expression of care, love and intimacy. When we consider how much food for thought that Baldwin has given us, this event is a way of given thought to how food made him a better writer, better thinker, and human being.
3 PM | Boardroom | SALON: NEW YORK CITY MARKETS: PAST, PRESENT & FUTURE
An exploration of the history of urban marketplaces and their adaptation to meet the needs of changing communities as well as evolving trends in how we shop in urban, suburban and exurban centers.
5 PM | Loft | COCKTAIL HOUR & CONVERSATION with ALEX RAIJ presented by MONKEY 47 GIN
Chef and author Alex Raij hosts a spirited conversation about Jewish food around the world.
7 PM | Liberty Hall | THE ART OF DINNER TIME: MELISSA CLARK x MELANIE DUNEA
Melissa Clark (author, "Dinner: Changing the Game"; columnist, The New York Times) and Melanie Dunea (photographer, author, "My Last Supper") present a multi-sensory, multi-part evening experience at Food Book Fair that explores why dinner is the best time of your day.
SUNDAY
9 AM | John Dory | SALAD FOR PRESIDENT BREAKFAST
We'll fete the launch of Julia Sherman's "Salad for President," a new book stemming from her popular website of the same name that chronicles making and eating salad with creative people.
10 AM | Boardroom | WORKSHOP: EVELYN KIM & FOOD ISSUES GROUP
How can we do more than fundraiser dinners? This workshop explores how those working within food systems — e.g. chefs, farmers, retail establishments — can go beyond charity towards community organizing and meaningful participation in social justice.
10 AM | Loft | WORKSHOP: YOU ART WHAT YOU EAT
Tap into food memories as a vehicle for story-telling with designer and illustrator Libby VanderPloeg.
12 PM | Liberty Hall | FOODIEODICALS
Our one-of-a-kind, only-at-Food-Book-Fair, signature independent-magazine-festival-within-the-fair is back!
1 PM | Loft | SALON: STONE BARNS CENTER
Celebrate the release of "Letters to a Young Farmer: On Food, Farming and Our Future," the first book from Stone Barns Center, with a conversation led by young farmers, for everyone invested in the future of food, farmland and communities.
1 PM | Boardroom | SALON: ON "DIVERSITY" with FOOD52
Food Book Fair x Food52 co-host a roundtable discussion on how food media can rigorously and responsibly diversify its voices along racial, gender, age-based lines, and beyond.
Weekend salon and workshop tickets come with complimentary same-day entry to Foodieodicals! Full schedule of events including book signings on our website: www.foodbookfair.com.