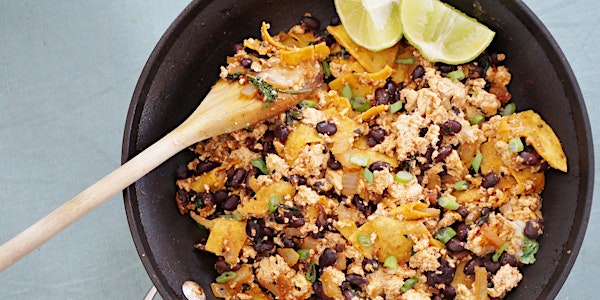 Food as Medicine: Vegan Cooking (Webinar)
Join us for the live webinar presentation of "Food as Medicine: Vegan Cooking" on Wednesday, August 17 at 11 AM.
About this event
In this webinar presentation of the live program hosted at the Center for Health & Wellbeing, you'll explore the flavors of a vegan diet with Registered Dietitian and Culinary Medicine Expert, Allison Harrell, and AdventHealth family medicine physician George Guthrie, MD, author of "Eat Plants Feel Whole." Did you know that whole food plant proteins will keep you fuller longer than animal protein due to the fiber content? But does plant protein taste good enough to make this a lifestyle or incorporate it in some of your meals? Join this webinar and find out. Trust us — you will LOVE the dessert recipe!
Registered webinar participants will receive a booklet with the following recipes:
Chocolate Chip Cookie Dough Dip
This program is presented by Allison Harrell and is hosted by the Winter Park Health Foundation in collaboration with AdventHealth.
How to join the Zoom Program:
Upon registration for this program, you will receive two emails:
• One email from Eventbrite: you can either disregard this email or save it for your records. No action needed with this message.
• One email from the Center for Health & Wellbeing: this email will contain your link to join the Zoom meeting. Simply select the link and the Zoom Meeting will launch. Please allow yourself five – 10 minutes before program start to launch Zoom and confirm your technology is properly working.
Unless otherwise noted, all CHWB Digital Education programs hosted via Zoom are recorded and made available for on-demand viewing on WellbeingNetwork.org. If you prefer to be left out of the program's recording, please leave your camera and microphone off for the duration of the program.
About Your Program Presenter
Allison Harrell is a registered dietitian nutritionist and plant-based chef who has been passionate about food and nutrition for more than 20 years. She advanced her knowledge by becoming a certified Culinary Medicine Specialist, certified in Weight Loss Management. Harrell believes that every time we eat, it is an opportunity to promote our health. She incorporates culinary experiences with a science-based approach. Her programs and tools make a positive difference in the health of our communities by instilling confidence and knowledge in the kitchen.
George Guthrie, MD, MPH, CDE, FAAFP, FACLM, is a family medicine physician with AdventHealth Winter Park. He is a member of the Academic Program at AdventHealth Center for Family Medicine and the past president of the American College of Lifestyle Medicine. Dr. Guthrie is also the author of "Eat Plants Feel Whole" and "Eat Plants Feel Whole Journal."
About the Food as Medicine Series: "Let food be thy medicine and medicine be thy food" isn't just a quote from ancient Greek philosopher Hippocrates, it's a framework to healthy and healing eating that's more relevant today than ever. Join CHWB Chefs and AdventHealth physicians for this innovative program from the Center for Health & Wellbeing. You'll learn more about the intersection of food and medicine, dive deep into the ways your food choices affect your health far beyond the numbers on your scale and learn easy recipes using new and interesting flavors and techniques.