Food and Wine Pairing 101

Tuesday, September 11, 2012 from 6:30 PM to 8:00 PM (PDT)
Event Details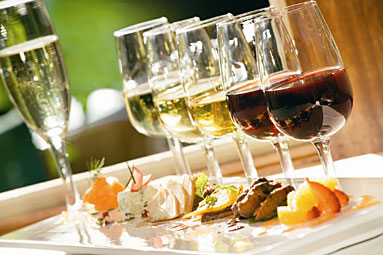 Finding the perfect wine to compliment your meals is like finding a great dance partner!
While food and wine pairing is a skill that presents challenges for many wine enthusiasts, you can quickly learn the basics to get you started on your journey of discovery. Chef Lenny Rede will guide you thru the essentials you need to know to be more effective at home or in restaurants with your choices!
This basic food and wine pairing course goes beyond whether to serve white with fish and red with meat. Learn with Lenny by tasting simple foods and different wines together and experience how their unique characteristics can dance with or destroy your appreciation of them.
Fine Print: Must be 21 years or older and must present a picture ID. If you need to cancel a class, you will be transfered to another course if you give us 72 hours notice. We reserve the right to reschedule a class or cancel with 72 hours a notice id minimal enrollment is not meant. Explorer Club members need to bring their membership card with them to class.
Organizer
Wine World & Spirits
Largest wine shop in the Northwest with a great selection of beers from near and far.
Food and Wine Pairing 101