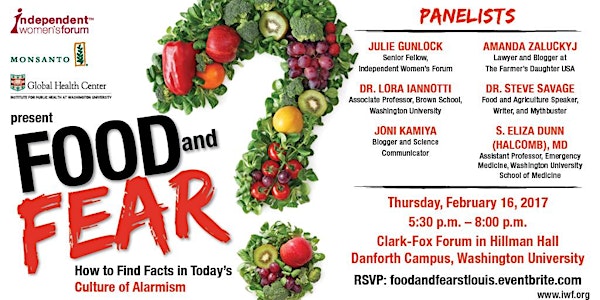 Food and Fear: How to Find Facts in Today's Culture of Alarmism
When and where
Location
Washington University in St. Louis, Danforth Campus Clark-Fox Forum, Hillman Hall One Brookings Drive St. Louis, MO 63130
Description
Americans are getting mixed messages about food and nutrition. Increasingly, consumers are having trouble finding reliable information. An all-star panel sponsored by the Independent Women's Forum will address food fears and how to find fact- and science-based information in today's culture of alarmism.
Our February 16 panel will explore these questions:
• What are the origins of food fears?
• How have food fears altered consumer behaviors?
• What are good sources for food and nutrition information? Bad source?
• Why are women targeted for fear-based marketing strategies?
• What can the science, medical, agricultural, and academic communities do to help provide consumers better information?
You won't want to miss this discussion!

5:30pm Reception
6:00pm Panel
*Light bites and libations will be served.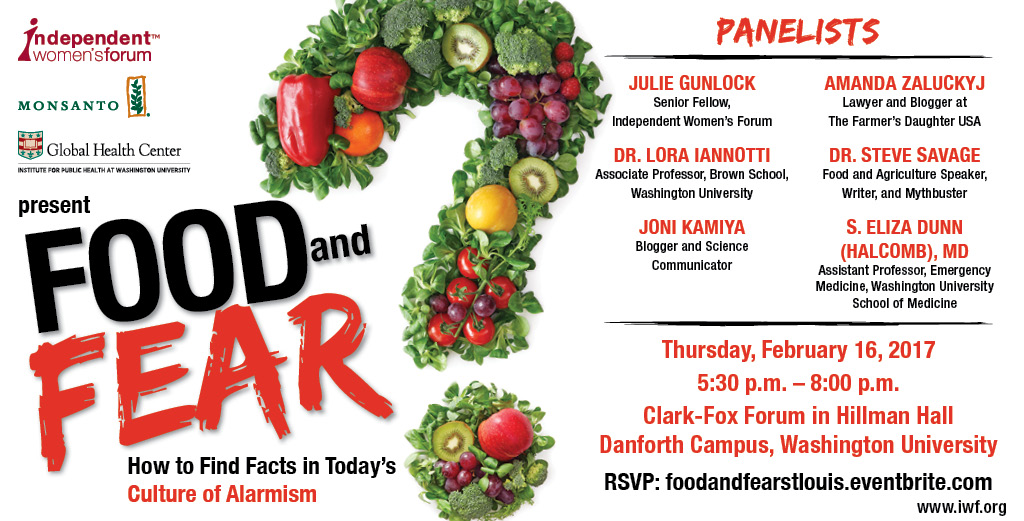 Lora Iannotti, PhD is an associate professor at the George Warren Brown School of Social Work at Washington University in St. Louis. Her current research focuses on program evaluation and impact modeling of undernutrition, infectious diseases, and poverty. Iannotti has expertise in the areas of infant and young child nutrition and micronutrient deficiencies affecting resource-poor populations. Dr. Iannotti received her PhD in International Nutrition from the Johns Hopkins University Bloomberg School of Public Health, and her Master of Arts degree in Foreign Affairs from the University of Virginia.
Amanda Zaluckyj, ESQ is a practicing attorney and runs her own blog on agriculture issues called Farmer's Daughter USA. Her family operates corn and soybean farms in Southwest Michigan as well as a roadside market selling their fresh fruits and vegetables. As a science and agriculture communicator, Zaluckyj works to educate consumers about modern farming, how food is grown and raised, and why certain production methods are used.
Joni Kamiya is an occupational therapist and a blogger on agriculture issues at her blog Hawaii Farmer's Daughter. Her father is Kenneth Kamiya, a long time papaya farmer and advocate in Hawaii. Kamaya writes on agriculture and science issues to educate on the methods used by small farmers on the Hawaiian islands.
Dr. Steve Savage has been working in the field of agricultural technology for over 35 years. Steve has a B.S. in Biology from Stanford University and a PhD in Plant Pathology from UC Davis. He has worked in academia at Colorado State University, been a part of large-scale chemical company, DuPont, and worked at start-up, bio-control company, Mycogen. Since 1996, Dr. Savage has been an independent consultant continuing to work with a variety of technology or investment clients in the areas of plant genetics, crop protection chemicals, biocontrol, biotechnology, biofuels and sustainability. Since 2009, he has written over 300 blog posts and given dozens of talks for technical and non-technical audiences.
Liza Dunn (Halcomb) is a practicing Emergency Medicine physician and Medical Toxicologist with a long-standing interest in Global Health. After completing her Toxicology Fellowship at NYU in 2006, Dr. Dunn returned to Washington University in St. Louis and started an ACGME accredited fellowship in Medical Toxicology. Over the following ten years, Dr. Dunn became increasingly involved with Global Health and Humanitarian relief projects. She organized a relief mission to Haiti after the 2010 earthquake, started the scholar track in Global Health for the Washington University Division of Emergency Medicine, and is one of the Global Health Scholars for the Department of Internal Medicine. As an adjunct professor in the Department of Anthropology, Dr. Dunn taught a course entitled "Medicine East and West" which compared the medical system in the USA with the medical system in China. This was a foundation course that established an exchange program for pre-medical students from Washington University to spend a semester at Fudan University in Shanghai, China.
In July of 2016, Dr. Dunn started working as the Medical Outreach Lead for Monsanto, a global seed company with innovative technology that has great potential to remediate malnutrition. She remains on the faculty of Washington University and is still an active member of the Toxicology team. She has lectured nationally and internationally on a diverse range of topics in medical toxicology and global health.
Julie Gunlock is a Senior Fellow at the Independent Women's Forum and directs the organization's Culture of Alarmism Project. She is the author of the book From Cupcakes to Chemicals: How the Culture of Alarmism Makes Us Afraid of Everything and How to Fight Back. Gunlock has written about food and culture for the New York Post, the Washington Post, New York Daily News, the Los Angeles Times, USA Today, Forbes, and is a regular contributor to National Review Online, the Huffington Post, Acculturated and The Federalist. She has offered political commentary on CNN, PBS, Fox News, and other networks and is a regular guest on local, regional and national radio programs.