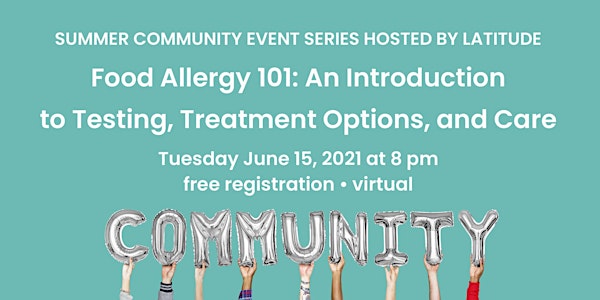 Food Allergy 101: An Introduction to Testing, Treatment Options, and Care
Learning to navigate life with food allergies? Learn the basics and what your options are as you navigate care for yourself or your child.
About this event
Learn about food allergies and connect with others in the food allergy community from the comfort of your own home.
Food allergy parents and co-founders of Latitude Food Allergy Care, Debbie Taback, Kim Yates, and Julie Bitler will provide an overview of testing, treatment and care options for those managing food allergies as an adult or navigating care for a child.
Hope you can join us!
This is the first in our Summer Community Event Series.
To register for "Food Allergies and the Toddler Years" July 15, 2021, 1 pm click here.
To register for " Food Allergies in Adulthood" August 17. 2021, 7:30 pm click here.