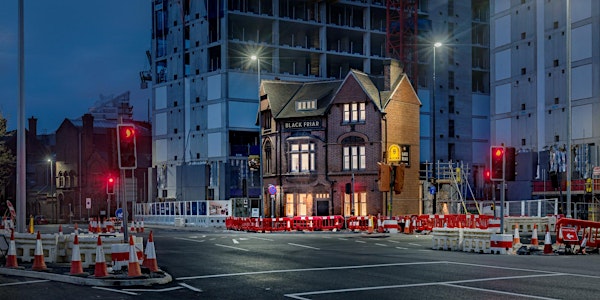 Following Hauntology: Twilight Streets and Dark Horizons
When and where
Location
70 Oxford St 70 Oxford Street Manchester M1 5NH United Kingdom
Description
Date: Wednesday 27th March
Time: 6pm - 8pm
Location: LB01, No 70 Oxford St
Tickets: FREE
HAUNT Manchester and Not Quite Light present:
Following Hauntology: twilight streets and dark horizons
Hauntology is a way of thinking about our world as intrinsically ghostly; one in which our present is always already ghosted by unresolved pasts and unrealised futures.
Across critical fields and a range of artistic practices, the definition of 'hauntology' itself is often placed in question. Perhaps most notably, in the afterlife it has enjoyed beyond Derrida, Mark Fisher has argued that hauntology was born again in the work of mid-2000s music artists whose aesthetic was ghostly, certainly, but whose soundscapes also confronted a cultural impasse: the death of the future.
In this panel, we will explore and question the continuing relevance of hauntology to artistic practice, to critical thought, and to those spectral spaces and places that we encounter in the half-light.
This panel is brought to you by HAUNT Manchester at Manchester Metropolitan University, a network of academics, artists, practitioners, cultural organisations and retailers who engage with the Gothic, the weird and the wonderful across the whole of Greater Manchester. HAUNT Manchester exists to connect people and to advertise and editorialise their work through the Visit Manchester website. You can view everything at https://www.visitmanchester.com/ideas-and-inspiration/haunt-manchester
This event is a precursor to the Not Quite Light Festival which takes place over 28th – 31st March 2019 in Salford. Not Quite Light is an award-winning project, inspired by standing in Manchester's Angel Meadow and considering what our ancestors buried below would think of today's city. It explores themes of transition and regeneration, working in the half-light of dawn and dusk. The work has inspired an annual festival, staged in Salford, which features music, art, architecture and debate as part of its programme.
https://notquitelight.com/not-quite-light-weekend-2019/
Appearing in this precursor panel event are:
Matt Foley is Lecturer in Modern and Contemporary Literature at Manchester Met. The author of Haunting Modernisms (Palgrave, 2017), he is currently writing on the acoustics of Gothic literature and on the fiction of Patrick McGrath. As well as being a member of the Manchester Centre for Gothic Studies, he is also the administrator of the International Gothic Association's Allan Lloyd Smith Memorial Prizes, and academic lead for HAUNT Manchester.
Natalie Zacek is senior lecturer in American Studies at the University of Manchester. Her works focusses on the Caribbean, the antebellum United States, and the Atlantic world in historical perspective. She is currently teaching a final-year undergraduate module on "American Hauntings," and plans to develop a research project on haunted Caribbean plantations.
Nick Dunn is Executive Director of Imagination, an open and exploratory design research lab at Lancaster University, where he is Professor of Urban Design. He is Senior Fellow of the Institute for Social Futures, leading research on the future of cities. Nick's work responds to the contemporary city and is explored through experimentation and writing on the nature of urban space: its design, appropriation and regulation. He is a keen nightwalker, using the practice to reveal both the latent histories and lost futures of places. His latest book, Dark Matters: A Manifesto for the Nocturnal City (Zero, 2016), is an exploration of walking as cultural practice, the politics of space and the right to the city.
Jane Samuels is a photographer and artist from Manchester, Northern England. Her work is grounded in Psychogeography, which considers the human connection to place. Through drawing, photography and writing, her work explores walking and trespass, public vs. private space and our complicated relationships with the land. Jane has taught photography and art in UK colleges and prisons, and runs art workshops and walks. She has a particular passion for facilitating social inclusion; especially through work with prison inmates, women's shelters and mental health services. Jane has produced work for campaigns, book, album covers and articles, and her work regularly appears in "best photographers on the web" lists. She continues to showcase new pieces via her popular Instagram page. In 2018 she was a photography judge for the ADC industry awards, for New York Creative week, and her chapter for the upcoming book "Psychoanalysis and Psychogeography: Walking together" will be published later this year.
Simon Buckley is a Salford based artist. He has exhibited in China, Hong Kong, France, Germany and the UK, and his work has been published in international magazines such as Elle and Der Spiegel. His project with 5 Plus Architects 'You Live With Us, We Live With You' was published as a limited edition book. He also produces a monthly NQL show for Reform Radio.