FOLLOW YOUR HEART ebook preview of HEART OF SUCCESS available for pre-purchase (donation $5.00) now --will be shipped via email to you July 4 weekend Features 50+ Tips, Quotes and Advice from 25 VIP Coaches, Celebrities & Leaders

Sunday, July 8, 2012 at 7:00 PM (PDT)
Event Details
ORDER THIS PREVIEW NOW -- it will be published as an ebook July 4, 2012.

AS SEEN IN THE WALL STREET JOURNAL and as featured on KFWB NEWS RADIO, LOS ANGELES,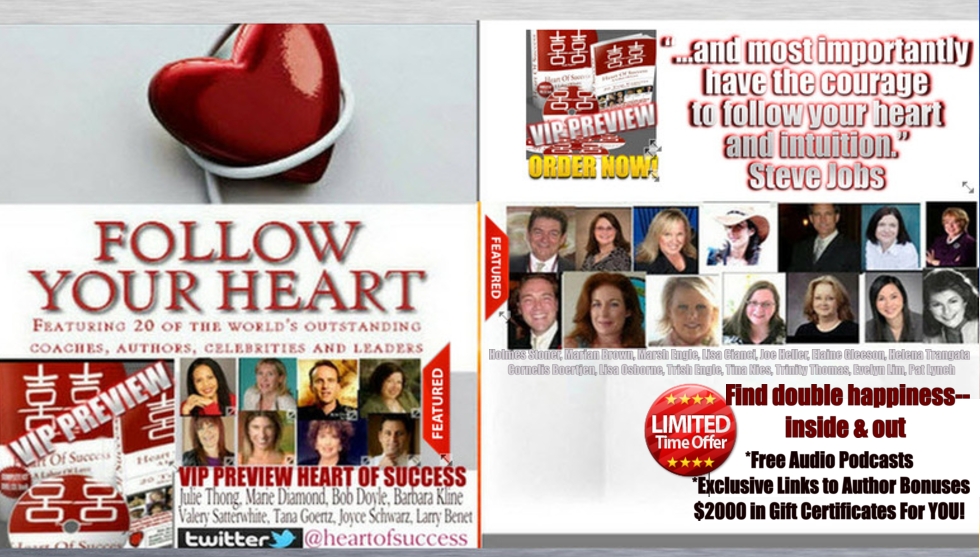 DO YOU HAVE THE COURAGE TO FOLLOW YOUR HEART? iNSPIRED BY THE GREAT STEVE JOBS QUOTE, MORE THAN 20 VIP AUTHORS, SPEAKERS, COACHES, LEADERS AND CELEBRITIES OFFER YOU TIPS TO FOLLOW YOUR HEART in this PREVIEW EDITION of HEART OF SUCCESS when work and life are a labor of love. 
GET VALUABLE TIPS and advise on such topics as: 
***How to create a holistic lifestyle with Marian Brown
***How to be happy inside and out (DOUBLE HAPPINESS) With Marie Diamond 
***How to take advantage of every opportunity with Elaine Gleeson
***How to overcome FEAR with Julie Thong 
***How to make critical LIFE CHOICES with Tina Nies
***Create wellness in your life (even if you're sick or tired now) with Joyce Damon Harrell
***Discover what's at the heart of starting up your own business With Barbara Kline 
***How to harness the ancient power of alchemy (creating gold) With Evelyn Lim 
***How to find your inner oracle With Trinity Thomas
***How to Moxie Up your Life with Valery Satterwhite
***Create infinite possibilities for you and your business and career with Helena Trangata
***See what your destiny hold with Lisa Osborne
***Explore being a Vegan with Joe Heller
***Be an Amazing Woman with Marsh Engle
***Follow the search for
birth parents ,birth siblings, medical history and heritage.
by an Adoptee , Ellen Miller
GREAT PRACTICAL ADVICE YOU CAN USE FOR: 
LOVE, LIFE, CAREER, STARTUP BUSINESS, HEALTH, WELLNESS, SELF-ESTEEM, NETWORKING, LIFESTYLE, CHANGES, LIFE CRISIS,
Produced by the bestselling author and award winning speaker and career strategist Joyce Schwarz
$2000.00 IN FREE LIFESTYLE AND WORKPLACE GIFT CERTIFICATES
GET THE PREVIEW and the bonus audio book in advance of the printing of the HEART OF SUCCESS upcoming bestseller. You'll get a free one hour podcast that explains how to cash in immediately on more than $2,000.00 in free coupons to redeem from the authors and our HEART OF SUCCESS partners! 
SUGGESTED DONATION $5.00 ALL PROFITS FROM THE SALE OF THE PREVIEW WILL BE DONATED TO THE LARRY KING HEART FO
UNDATION AND THE HEART ASSOCIATION OF AMERICA.
When & Where

via digital download to your email




Sunday, July 8, 2012 at 7:00 PM (PDT)
Add to my calendar
Organizer
THE VISION BOARD INSTITUTE founded by Joyce Schwarz offers the following services:
*Creation of Giant Vision Boards for Charity Benefits & Corporate events (call for details and price list)
*Accreditation as a Certified Vision Board Coach joyceschwarz@gmail.com
*Vision Board creation classes and workshops for corporations, churches, nonprofits and community groups and private parties & events, joyceschwarz@gmail.com