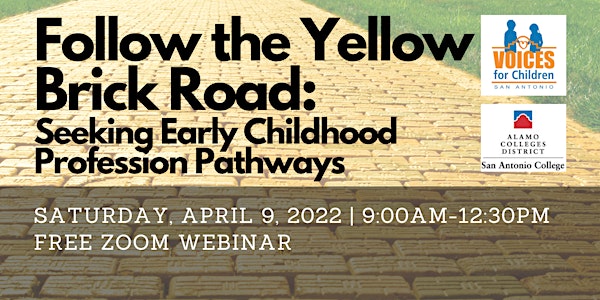 Follow the Yellow Brick Road: Seeking Early Childhood Profession Pathways
Sales Have Ended
Ticket sales have ended
Join us on Saturday, October 23rd, 9:00 AM-12:00 PM for a free Zoom webinar. Registration is free open to the public. Donations are greatly appreciated. FREE REGISTRATION FOR THIS EVENT CLOSES October 21st at 11:59pm! Three (3) professional development hours will be given if you attend the whole event and once you have completed the post-event survey. The post-survey will ONLY be available in the Live Stream Webinar Event. You must attend all sessions to receive a Training Certificate. You will be sent a code Friday, October 22nd to your registered email in order to join the Saturday event. Please Note: Each person must be registered with their own email address. Otherwise, they will not receive the Zoom link or any other reminder or follow-up emails. Contact Ellie Escamilla, eescamilla@voicessa.org for more information. Please Note: Each attendee must sign in to the Live event with their full name and email address as participation in the Live event will be verified with Zoom. Zoom tracks minute-to-minute attendance and training certificates can only be issued to those who attend the whole event. Voices' does not give out partial certificates for short attendance. If you are watching as part of a group please, contact Ellie Escamilla at least 24 hours before the event. Full names and email addresses of all attendees watching as a group, must be submitted to track attendance accordingly. *Training certificates are for child care providers and teachers and those who must submit documentation of attendance. We follow the Texas Health and Human Services Child Care Licensing requirements for professional development.* *Social work and counseling CEUs available upon request.* (CEU = A continuing education unit (CEU) or continuing education credit (CEC) is a measure used in continuing education programs to assist the professional to maintain their license in their profession. We only offer CEUs for Counseling and Social Work). ***Please note: There will be a $10 fee for any Certificate Requests starting on October 29th. *** *** Please note: There will be a $10 fee for certificates related to late survey submissions (surveys submitted after designated deadline 10/25 @ 10 pm).***
Join Voices for Children for a Live Streamed Event on Understanding the Pathways to the Early Childhood Profession!
About this event
Join us on Saturday, April 9th, 9:00 AM-12:30 PM for a free Zoom webinar.
Registration is free open to the public. FREE REGISTRATION FOR THIS EVENT CLOSES April 8th at 8:30pm!
Three and a Half (3.5) professional development hours will be given if you attend the whole event and once you have completed the post-event survey. The post-survey will ONLY be available in the Live Stream Webinar Event. You must attend all sessions to receive a Training Certificate. You will be sent a code Friday, April 8th to your registered email in order to join the Saturday event.
Please Note: Each person must be registered with their own email address. Otherwise, they will not receive the Zoom link or any other reminder or follow-up emails. Contact Ellie Escamilla, eescamilla@voicessa.org for more information.
Please Note: Each attendee must sign in to the Live event with their full name and email address as participation in the Live event will be verified with Zoom. Zoom tracks minute-to-minute attendance and training certificates can only be issued to those who attend the whole event. Voices' does not give out partial certificates for short attendance. If you are watching as part of a group please, contact Ellie Escamilla at least 24 hours before the event. Full names and email addresses of all attendees watching as a group, must be submitted to track attendance accordingly.
*Training certificates are for child care providers and teachers and those who must submit documentation of attendance. We follow the Texas Health and Human Services Child Care Licensing requirements for professional development.*
*Social work and counseling CEUs available upon request.* (CEU = A continuing education unit (CEU) or continuing education credit (CEC) is a measure used in continuing education programs to assist the professional to maintain their license in their profession. We only offer CEUs for Counseling and Social Work).
***Please note: There will be a $10 fee for any Certificate Requests starting on April 15th. ***
*** Please note: There will be a $10 fee for certificates related to late survey submissions (surveys submitted after designated deadline 4/11 @ 10 pm).***