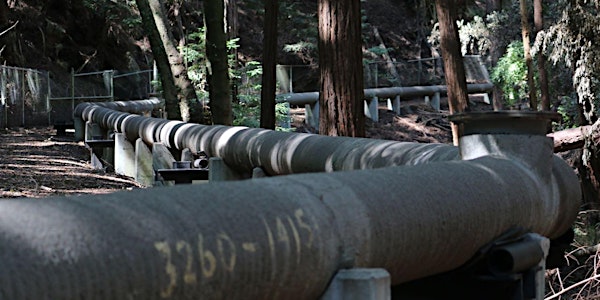 Follow the Flush: Santa Cruz Wastewater 5K Walk
When and where
Location
East Remote Parking Lot Santa Cruz, CA 95064
Description
"Follow the Flush" is a participatory 5K walk following the path of wastewater through interesting landscapes that are hybrids of urban infrastructure and natural features. Interactive art installations and informational kiosks along the way offer a fun way for people to learn more about what happens after we flush the toilet, and to engage in some potty humor as a playful way into more serious conversations about waste, sanitation, sustainability, and resilience. The walk ends at the wastewater treatment facility, where tours of the facility and will celebrate the work that goes into maintaining this critical infrastructure, including the role that microorganisms play in processing human waste and making us who we are.
SCROLL DOWN FOR FULL INFO!
This is a FREE and family-friendly event! Kids are welcome, though all adults attending (and anyone who wants a commemorative T-shirt) should be registered separately. And expect some healthy discussion of bodily functions! ;)
PLANNING: The walk takes approximately 1.5 hours, leaving every half hour between 9:30–11:30am from Start location at East Remote Lot. Parking at East Remote Lot is free on weekends. The walk is immediately followed by a celebration at the Finish location at Neary Lagoon (110 California St, Santa Cruz, CA 95060) featuring interactive art installations and performances, as well as free public tours of the wastewater plant at 11, 12, 1, and 2pm. (Register in advance to reserve a spot.) Bus 19 leaves from Bay and California every hour, takes about 25 minutes to return to start at East Remote Lot. For the full the experience, plan 2.5–3 hours.
Art installations and performances, water tables that double as interactive displays from water-related nonprofits, and a variety of family-friendly games and activities.
Art installations and performances
A special appearance by POOP (People's Own Organic Power) Project founder Shawn Shafner, aka The Puru, who will lead hourly meditations to rebalance the bowels, and offer wildflower mud pies to encourage communion with the holy soil.

The Bureau of Linguistical Reality, an interactive artwork that collaborates with the public to create new words for feelings and experiences for which no words yet exist.

A rare public display of Alviso's Medicinal All-Salt, a unique hand-harvested salt enriched with pharmaceuticals found in Silicon Valley's natural water systems, created by Morgan Levy + Jon Cohrs.

A site-specific sound installation by Gregory Sullo, using wastewater pipes as both the source of the sound and the resonant speaker.

Poster prints by Molly Winter about the toilets of the world, decomposers, composting, and the nitrogen cycle.

A peek at a new ocean and estuary themed mural in progress by local artist Eljah Pfotenhauer.

Plus videos by Karina Mangu-Ward, Rachel Zollinger, Lize Mogel, other artists to be added soon...
Interactive displays from water-related nonprofits
"Guess the Scat," with UCSC Campus Natural Reserve Manager Alex Jones, featuring real droppings of mysterious local creatures,

A display about Restorative Sanitation from equitable sanitation advocacy org PHLUSH (Public Hygiene Lets Us Stay Human)

And other interactive displays from water-related nonprofits like Community Water Center,

Surfrider Foundation, Homeless Garden Project, UCSC Sustainability Office, Fossil Free UCSC, and Santa Cruz Climate Action Network.
Plus...
Waste Mapping exercise, Best Bathroom prize, toilet humor, "Pin the Poop," Cornhole, water tastings and drinking contests, and other fun games and activities!
---
Part of an ongoing series of walks held in various US cities, the 2018 event in Santa Cruz is co-developed with the support of the City of Santa Cruz and the Santa Cruz Arts Commission, independent artist studio FICTILIS, an undergraduate research group within the DANM department at UCSC, and other artists and organizations in the Santa Cruz community.