Description
Join us to kick off the 5th annual Long Beach Folk Revival Festival celebrating Moonsville Collective's new EP Release, "Ep 3" with the kings of high energy square dance music from Tennessee, Hogslop String Band and the great old-time instrumentalist, Frank Fairfield.
Taking place in downtown Long Beach, right down the street from the festival at the new event space, At the Top.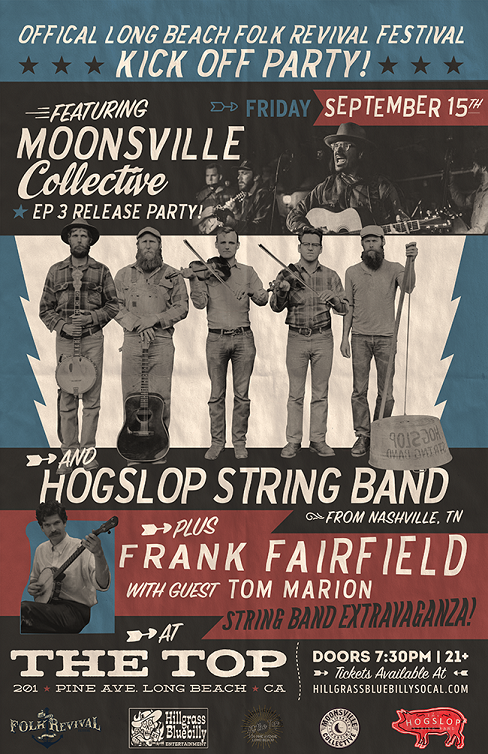 About the Artists:
Hogslop String Band

The Hogslop String Band is a Nashville based old time string band comprised of four energetic young musicians hailing from Georgia & Tennessee. Featuring Kevin Martin on the fiddle, Gabriel Kelley on guitar, Daniel Binkley on banjo and Casey "Pickle" McBride on the washtub bass, these boys surely raise a ruckus.

Upon forming as a pickup square dance band in the summer of 2009, The Hog Slop String Band has since become one of the most sought after old time string bands. Known for their outrageous facial hair and a rollicking repertoire heavily based on Georgia and Middle Tennessee fiddle tunes, these boys have provided entertainment for fashion shows, political conventions and whiskey distilleries as well as countless weddings, festivals and soirees.

Following in the footsteps of such country music luminaries as Uncle Dave Macon and Gid Tanner, they put on a high energy show easily appreciated by both young and old alike. Despite an unkempt appearance, their undeniable charm is as certain to steal your heart as it will your daughters!
"Hogslop is the real deal groovilicious honkin old-time string band. Guaranteed old-time awesomeness with these fellas around!" - Abigail Washburn (Banjo Extraordinaire)
"The Hogslop String Band is one of the most unique bands I have ever heard. Their music takes you back to a time when things were real and from the heart. These guys are very talented and I recommend that you go see them. You will be thoroughly entertained!" - Reggie Young (guitar for Elvis, Willie Nelson, Johnny Cash, Dusty Springfield)
Moonsville Collective:
Moonsville, named after a home in the sky, is a band that writes songs that are trimmed from the fat of the American experience. During a time of high saturation and modern pace, the band draws from a slower and simpler time with the belief that good songs can still save, move and speak.
As young ramblers from the suburbs of recession in Los Angeles, they began their musical formation by taking refuge in Central California and sitting-in on jug band and old-time music circles where an infectious and pure spirit of "music for music's sake" lived. Injecting that same spirit into their own community became their quest. Moonsville started as a collective, a group for musicians to come and go while fine-tuning their chops. They cheerfully and often drunkenly sang their voices hoarse at homegrown hootenannies and local bars that had never heard covers of C.C. Rider and Goodnight Irene.
In 2013, the band changed its course. Deciding it was time to chisel their own hometown sound, they set out to explain and narrate their lives and their California while curbing their reliance on old-time tunes. Since then, they have recorded 2 albums of original music, toured the country, and played countless shows sharing the stage with The White Buffalo, Willie Watson and Nitty Gritty Dirt Band, among others. Moonsville pairs their LA reality of flickering neon signs and mariachi dive bars with their out-of town travels to form a landscape where their songs can grow, emoting a heart of contentment for what's been given and a desire for the beyond.
Moonsville is dedicating the next year to recording 4 EP's (20 songs) in a focus to capture their current prolificacy. With multi-instrumentalists and several songwriters in the band, they keep their Americana style variable, always allowing for experimentation and the blurring of genre lines. One of the songwriters, Ryan Welch says; "Each song has a different feel but the consistency lies in the history of us playing together and the trust we have in each other to make good decisions."
This first release of the quarterly EP's will exhibit the band's versatility. From a heavy hitting rock anthem about being on the road to a harmony laden progressive old time song about being home, Moonsville uses their lyrics to contrast the duality of being independent and dependent. Those are followed by an aching ballad about sharing your name with the woman you love and what that entails, which echoes the emotion of an old country song. "This EP exposes our tough and tender," says another of Moonsville's songwriters, Corey Adams. The fourth song is a unifying commentary on being raised in America and speaks to having it all and giving it back. In the final track, a mystical folk tale, they laugh at the ways of the world and the futility of going it alone. With a definitive vision of relying on quality songwriting, a fine tuned team, and a gritty drive to reach beyond the cul-de- sac of suburbia, Moonsville presses on.
Frank Fairfield

Frank is a Fresno California native (and now Los Angeles resident) and a genius on the fiddle, guitar, banjo who possesses a broken soulful voice that perfectly reflects the tragedy and damnation of the subject matter reflected in the timeless American music that he's made his stock and trade through his albums on Tompkins Square, and through countless tours from coast to coast.
Date and Time
Location
Refund Policy