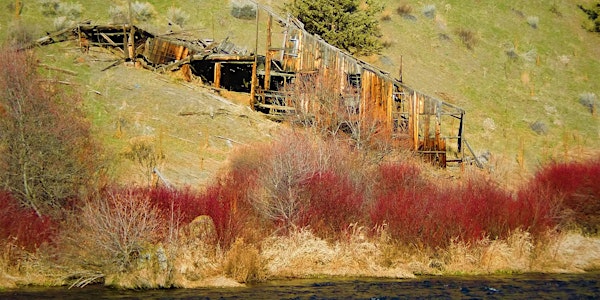 Foley Waters Hike
We will follow lesser known paths with a bit of cross country travel, looking at spring plants, a fraudulent gold mine, and local geology.
When and where
Location
Steelhead Falls Trailhead River Road Crooked River Ranch, OR 97760
About this event
Hike Rating: Moderate; 2.5 mile loop with 100 feet elevation change
Guide:  Eric Hanson
This hike offers something a little different! We will follow lesser known paths and a bit of cross country travel. Our adventure will include spring "greenies and growies," a touch of local history (Who the heck is Foley Waters?), a fraudulent gold mine, Deschutes River access, some local geology and a really pleasant hike. Standard hiking equipment includes sturdy boots, lunch or trail snacks, water, extra clothing layer and trekking poles. Bring a face mask - standard Covid precautions will be in effect.
This is a free hike, limited to 8 participants and registration is required. If the hike is full, add your name to the wait list. If you sign up and later need to cancel, please do so as soon as possible so that people on the wait list can be invited to join this hike. No pets permitted on this hike.
DIRECTIONS: We will meet at the Steelhead Falls Trailhead. From Hwy 97 turn onto Lower Bridge Way at the Crooked River Ranch highway sign. Drive 2 miles, turn right onto 43rd Street and drive about 1.7miles then turn left onto Chinook Drive and after 1.0 mile turn left onto Badger Road and travel 1.7 miles to the end - at the "T" intersection, turn right onto Quail Road. Travel about 1.1 miles and turn left onto River Road. Drive to the end of River Road and arrive at the Steelhead Falls parking area.
This event is sponsored by Friends and Neighbors of the Deschutes Canyon Area (FANs), a group founded in 2011 by landowners surrounding the Deschutes Canyon-Steelhead Falls Wilderness Study Area in Central Oregon who came together over their shared love of nearby public lands.  The focus area of FANs includes many special places such as Steelhead Falls, Alder Springs, the Peninsula, Otter Bench and Scout Camp.  Become a member by visiting our website at www.fansofdeschutes.org.  Memberships are just $10 per person per year.