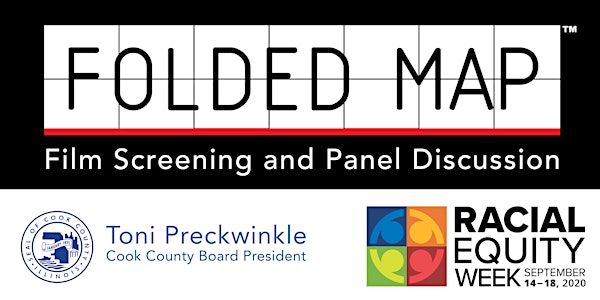 Folded Map Project Film Screening and Conversation with Cook County
Join us for a film screening and conversation about the Folded Map Project by Chicago artist Tonika Johnson.
About this event
President Preckwinkle will introduce a short film screening and panel discussion about the Folded Map Project. Tonika Lewis Johnson's Folded Map™ Project visually connects residents who live at corresponding addresses on the North and South Sides of Chicago. She investigates what urban segregation looks like and how it impacts Chicago residents. What started as a photographic study quickly evolved into a multimedia exploration with video interviews. The project invites audiences to open a dialogue and question how we are all impacted by social, racial, and institutional conditions that segregate the city.
Panelists:
Asiaha Butler of Resident Association of Greater Englewood.
Maria Krysan, Professor of Sociology and Senior Scholar at the Institute of Government and Public Affairs at UIC, and co-author of the book, Cycle of Segregation.
Tonika Johnson, Folded Map Project Founder.
Attendees of this screening will receive a link to join a Zoom meeting where they will view a live screening of a short film about the Folded Map Project, followed by a live panel discussion and opportunity for audience Q&A.
This event is part of Cook County Racial Equity Week, a series of events held the week of September 14-18, 2020. Learn more and find other events for Racial Equity Week at www.cookcountyil.gov/service/racial-equity.