Description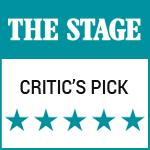 Fresh from their critically acclaimed sell-out run at the Edinbrugh Fringe Festival, Foiled returns to London for three nights only. Staged in a working hair salon in Crouch End, Foiled invites you to immerse yourself in the secret world of styling while Sabrina and her team attempt to perform mission impossible, hair-wise.
'Bleach for the Stars' specialises in celebrity dip dyes and off-kilter karaoke but today its doors are closed (again) so that manageress and chief style engineer Sabrina can get busy nominating herself for the prestigious Clipadvisor Salon of the Year award. When bald out-of-work actor Richie arrives for a career-saving hair-do, over-talented and under-employed assistant stylist Tanisha must convince Sabrina that you simply can't buy success.
Except, of course, when you can.

With a unique blend of big hair, gently satirical comedy, sing-along show tunes and beyond-the-grave psychic interventions, Foiled is the feel-good theatrical answer to the lamentably unasked question: 'Something for the weekend, Prime Minister?'.
Foiled premièred in August at the Edinburgh Fringe Festival to both high critical praise and sell-out audiences. In their five-star review, The Stage called Foiled 'the perfect comedy'. In The Scotsman, Kate Copstick described the play as a 'fantastic, funny, close-up and entertaining Fringe experience'.