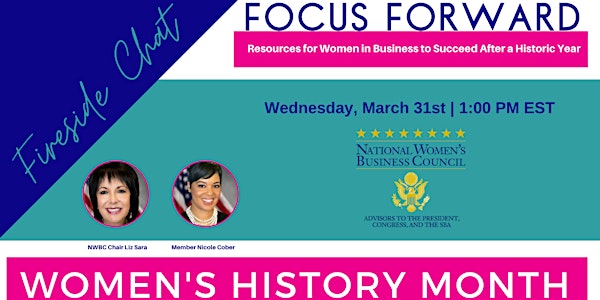 Focus Forward Resources for Women in Business to Succeed
Resources for Women in Business to Succeed After a Historic Year
About this event
In celebration of Women's History Month, NWBC invites you to join a fireside chat featuring Chair Liz Sara and Council Member Nicole Cober. This insightful discussion will highlight key trends in women's business enterprise and cover notable, free resources to help you start and scale your business.
Women own or co-own 45% of all businesses in the United States. These businesses represent a wide range of industries and are owned by women from all walks of life. The majority are small, with great potential for growth in both revenues and job creation.
__
The National Women's Business Council (NWBC) is an independent federal advisory committee established to provide advice and policy recommendations to the President, Congress, and the Small Business Administration (SBA) on issues related to women's business enterprise. In doing so, the Council regularly convenes women business owners and entrepreneurs from across the country to connect their voices to policymakers in Washington, DC.