Description
Event Schedule:
Session 1: Tuesday 7/11/2017, 6:30-8:30 PM
Optional Free Cosplay Workshop Lab Thursday, 7/13/2017, 6:00PM - 8:30PM
Session 2: Tuesday, 7/18/2017, 6:30-8:30 PM
Session 3: Tuesday 7/25/2017, 6:30-8:30 PM
Course Description:
Want to wear a costume to a convention? Interested in learning how to use an incredibly common an suprisingly versatile material? Come learn how to use standard EVA foam floor mats to make stunning armor by learning to build your own helmet using simple templates and glue!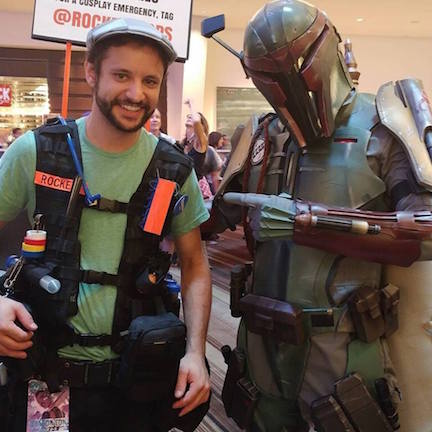 Class Goals:
Introduce students to building armor with EVA foam. Students will leave with their own unique helment.

Prerequisites:
Students must be at least 18 years of age.
Interest in costuming, cosplay, props, LARPing, Armor, etc.
Materials:
Materials will be provided in your class ticket price.
Class Minimum:
This class will only run if at least 3 people sign up.

Instructor Biography:
A lifelong sci-fi nerd, Jacob "Rocket" LaRocca builds props and repairs cosplay in his free time. He can bee seen at most east coast conventions running "Rocket's Free Cosplay Repair". When not building props and costumes, he is usually building something out of duct tape, playing his trombone, or tap dancing.
---
ARTISAN'S ASYLUM STUDENT POLICIES
Purchase of a ticket expresses acceptance of A2's Refunds and Cancellation policies found here:

https://artisansasylum.com/classpolicies/
Students: we love getting your feedback! Fill out this form to be heard!