About this Event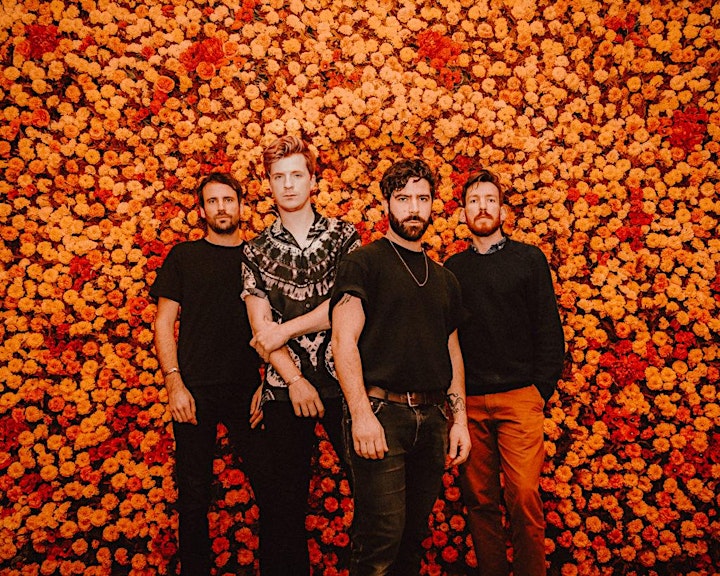 FOALS
From playing chaotic house parties in their home city of Oxford to becoming major festival headliners across Europe, Foals' trajectory has been remarkable. They've earned critical acclaim (NME and Q Award wins, plus Mercury Prize, Ivor Novello and BRIT Award nominations) and fan devotion (1.7 million sales of their four Gold-certified albums) in equal measure. And while the majority of contemporaries have fallen by the wayside, Foals continue to hit new peaks.
What's more, they've achieved it all on their own terms. "We've never been a straight-up pop band, we've never tried to make a hit," observes frontman Yannis Philippakis. "From the beginning, we've come at it from an unorthodox angle."
After more than a decade in the game, Foals again embrace that love for the unconventional with the bravest and most ambitious project of their career: not one, but two astonishing new albums: 'Everything Not Saved Will Be Lost'. A pair of releases, separate but related. They share a title, themes and artwork. "Two halves of the same locket," Yannis explains, with the first of the pair emerging in March and the second following later in the year.
"They can be listened to and appreciated individually, but fundamentally, they are companion pieces," he states. Musically they explore uncharted sonic territories for the group. Fundamentally tethered but possessing their own personalities, the two bodies capture the most compelling, ambitious and cohesive creations they've ever produced.
The new albums' journeys began as the 'What Went Down' era ended. Founding bassist Walter Gervers departed on amicable terms after playing the Festival Paredes de Coura in Portugal in August 2017. Foals felt that he couldn't be replaced – a decision that ushered in a period of recalibration, reorganisation and, ultimately, rejuvenation.
After taking a little time out, Yannis, Jimmy (Smith, guitar), Jack (Bevan, drums) and Edwin (Congreave, keys) had decided to self-produce their new music, sharing duties on bass. They began by writing in a rehearsal space before exporting those sketches into the recording phase at 123 Studios, Peckham, with the assistance of engineer Brett Shaw. They'd repeat the cycle between the two spaces, effectively "creating an ongoing feedback loop" as they sought to "push every new idea to the finish line."
"There was no time pressure, no deadline and no real worry of expense," says Yannis. "This was the time for us to put our money where our mouth is and itch what's needed to be scratched for a while, to make Foals 100% concentrated, no dilution."
While the concept behind the album breaks new ground, the music also finds Foals leaping into new territory. Eager to break the traditional pop song structure which they felt they were becoming increasingly tapered to, the 20 tracks defy expectation. There are exploratory, progressive-tinged tracks which occasionally break the 10-minute mark alongside atmospheric segues which make the music an experience rather than a mere collection of songs. Yet the band's renowned ability to wield relentless grooves with striking power and skyscraper hooks also reaches new heights.
Lead track 'Exits' is case in point, with Philippakis conjuring the image of a disorienting world "upside down" via a contagious vocal melody. It's a fresh anthem for Foals' formidable arsenal, but also an ominous forecast.
"There's a definite idea about the world being no longer habitable in the way that it was," says Yannis. "A kind of perilousness lack of predictability and a feeling of being overwhelmed by the magnitudes of the problems we face. What's the response? And what's the purpose of any response that one individual can have?"
'Exits' signposts what to expect thematically from both instalments of 'Everything Not Saved Will Be Lost'. The title is a warning that anything – from the tiniest fleeting moment of inspiration through to the planet's own biological diversity – can be under threat of being irrevocably erased.
It's a theme that permeates throughout the album's material, as Foal mirror the public neuroses that have been provoked by our current cultural climate. Paranoia of state surveillance? Fear of environmental collapse? Anxiety over Trump's next potentially cataclysmic move? It's all there in these apocalyptic songs.
It's particularly evident in the euphoric 'In Degrees' which imagines a future "where your ability to talk to each other has been reduced to nothing". It's a message that can be interpreted on multiple levels. It could be the personal fear of a failing relationship, or a grand scale, Black Mirror-styled vision of a dystopian future.
This approach is perhaps most vividly captured on 'Syrups', and the devastating closing pair of songs on the first album, 'Sunday' and 'I'm Done With The World (& It's Done With Me)'. The latter is "a song basically written for a future child, having this fear that they're not going to be able to experience nature in the way we did."
"Lyrically, there are resonances with what's going on in the world at the moment," summarises Yannis. "I wrote the lyrics for this record from the viewpoint of sitting and looking out through a big glass window and wanting to observe the world from the sixth floor of a building. Like having this panoptic view of stuff, rather than writing in a closed room – it was important to start to allow a bit more of that in."
"I just feel like, what's the utility of being a musician these days, if you can't engage with at least some of this stuff?" he continues. "These songs are white flags, or they're SOSs, or they're cries for help… each in a different way."
While the world's ever more unpredictable ways are potentially something to fear, Foals' constant willingness to reinvent themselves is something to celebrate
"We've shed different skins as a band. We've been a band that have played underground house parties, a band that have played Fabric, rock festivals… we've lived a lot of lives," reflects Yannis, sounding invigorated. "At a time when a lot of the music landscape has changed and fallen away… to still feel as creatively potent as we did in the beginning, if not more so, is the biggest thing. It feels good to feel like we're an important, interesting, alive band."
In a contemporary climate of few concrete certainties, Amen to one of them.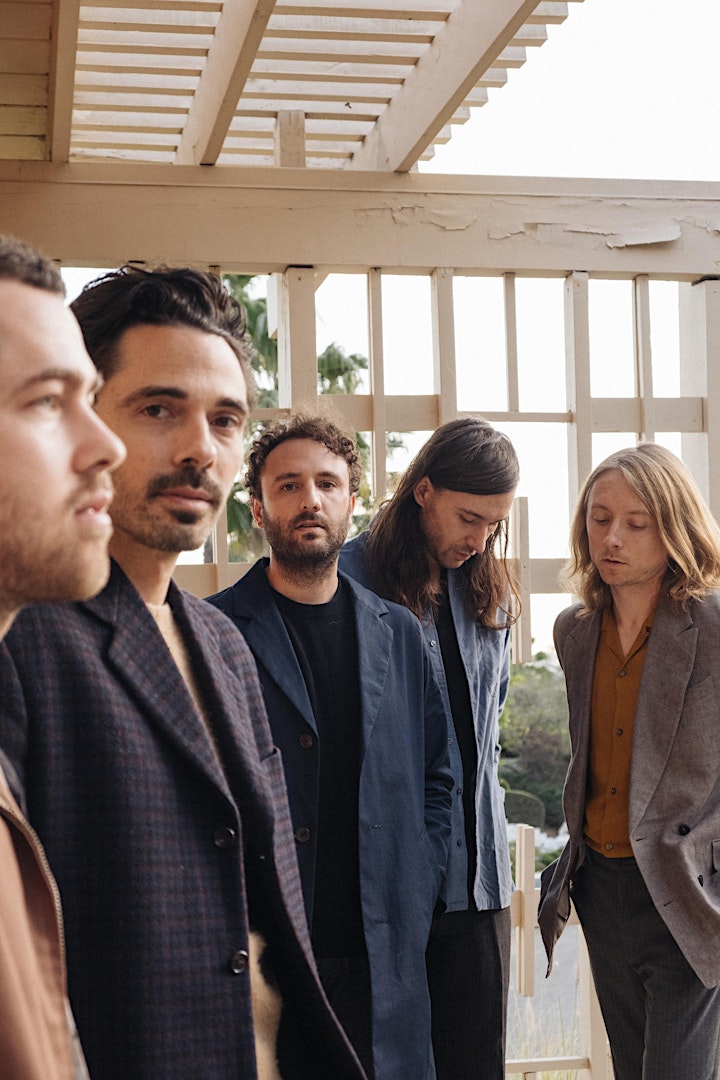 LOCAL NATIVES
Face-to-face songwriting and musical interplay put to tape: the classic studio setting is juxtaposed on Local Natives' fourth full-length, VIOLET STREET [Loma Vista Recordings] with modern production and visuals to form a timeless album. The band's signature soaring 3-part harmonies are augmented by loops of tape, physically spliced and transformed by hand, the result of experimenting in the studio with producer Shawn Everett [Alabama Shakes, Kacey Musgraves, The War On Drugs] is a band renewed.
In essence, Local Natives [Taylor Rice (vocals, guitar), Kelcey Ayer (vocals, keys), Ryan Hahn (vocals, guitar), Matt Frazier (drums), and Nik Ewing (vocals, bass, keys)] return to the methods of their 2009 debut Gorilla Manor, but with the bonds of their union fortified and with the growth of wisdom accrued in the studio and on stage in front of millions of worldwide fans. "The record is about us reconnecting to playing off of each other," states Taylor. "We didn't go into separate corners, produce our own songs, and bring them to the group. Back when we made Gorilla Manor, we lived together in one house and made a frantically creative environment. This time, we were in a massive warehouse with Shawn, jamming, and relying on each other often until three or four in the morning for several nights straight. It was fun, but also pushed us to outdo each other. We got back to our strengths. We've always been super collaborative and democratic, as we have three songwriters and singers, and all five of us have a lot of creative input. This was the most collaborative and open we've been though. We were raw and vulnerable. It's the first time we didn't do any pre-production, we went in and built the record out of nothing." "Not only was the band at its most collaborative, we've never collaborated alongside a producer so closely," adds Kelcey. "Shawn became like an unofficial sixth member. It was amazing to go that deep with him." Everett did what the best producers are supposed to, getting the best dynamics out of a group of musicians who have been together a long time. "Taylor, Ryan and I worked together on the songwriting and lyrics, but Nik and Matt also contributed so much to this record," Kelcey says. "Nik has beautiful lines and textures all over the album, and Matt's drumming has never been better." In many ways, all paths converged upon VIOLET STREET. Prior, the group progressed their sound over the course of three full-lengths, the aforementioned Gorilla Manor, Hummingbird [2013], and, most recently, Sunlit Youth [2016]. The latter received praise from The FADER, Consequence of Sound, The Guardian, and more as "Dark Days" exceeded 45 million Spotify streams followed by "Coins" with 23 million Spotify streams. In between countless sold out shows and festival appearances - including a standout Coachella 2017 set - they've graced the stages of Austin City Limits, The Tonight Show Starring Jimmy Fallon, The Late Late Show With James Corden, and more. And they tested new sonic waters, recording a cover of Kanye West's "Ultralight Beam," which Complex called "beautiful." After the tour cycle concluded in support of Sunlit Youth, the musicians decided to go back to square one in 2018. Rather than separately write, track, and contribute parts via email, they congregated in person at Shawn's studio and warehouse, rekindling their chemistry and nodding to a tried-and-true tactic employed at the start of their career. "Writing and touring Sunlit Youth was pretty tumultuous for a lot of reasons," admits Ryan. "We needed to come home and figure out how we relate to each other again. We talked about our relationships very candidly. Making new music together was a reset and a way to feel grounded in all the chaos around us.
That brings us to the album's key question of "What keeps us grounded?" It comes to life in the swooning delivery, shimmering keys, and airy strumming of
"Café Amarillo," which speaks directly to the central theme of VIOLET STREET. "With all of the chaos in the world, where do you find your shelter?" asks Kelcey. "For me, it's the shelter I share with my wife when we're together. It's our love." "Lyrically, the one thread between all ten tracks is shelter," Taylor elaborates. "Of course, we have relationships with our significant others, but we also find shelter in community, friendships, and the band. They are at the heart of VIOLET STREET."
Sonically, shelter assumes many different forms. Powered by a healthy helping of slide guitar courtesy of Ryan, "Someday Now" channels the energy of "a haunted Hawaiian film noir party." Then, there's "Shy," which swings from "swampy jungle" drums into a danceable groove punctuated by a "wild Tusk-inspired horn section like a Marching band freaking out." Three-part harmonies take flight on "Garden of Elysian," while the finale "Tap Dancer" culminates on resounding piano waltzing towards a heavenly and hypnotic send-off punctuated by otherworldly voice transmissions. Lyrically, "It's about tapping into those pure feelings and emotions, before the noise of the world distracts you," says Ryan. "You're getting back to a simpler place and having perspective and childlike joy." With Shawn as the "total genius mad scientist" at the helm, the musicians pushed themselves to refine their vision like never before. Widening the sonic palette, they played a series of avant garde and classic films in the background to draw inspiration, choosing ranging from Kurosawa samurai films, Drive, and Citizen Kane to Endless Summer and the work of Alejandro Jodorowsky. As a result, "it elevated the songwriting," according to Kelcey. Ryan laughs, "We took some pages from the Brian Eno playbook" The music evokes an expansive scope introduced by the lush guitars, iridescent harmonies, and paranoiac pop vocals of the single "When Am I Gonna Lose You."
Performers
Date and Time
Location
Refund Policy