Come celebrate the Holiday Season with an insatiable selection of stunning sweet feet and tantalizing toes at Footnight LA on November 21st!
About this event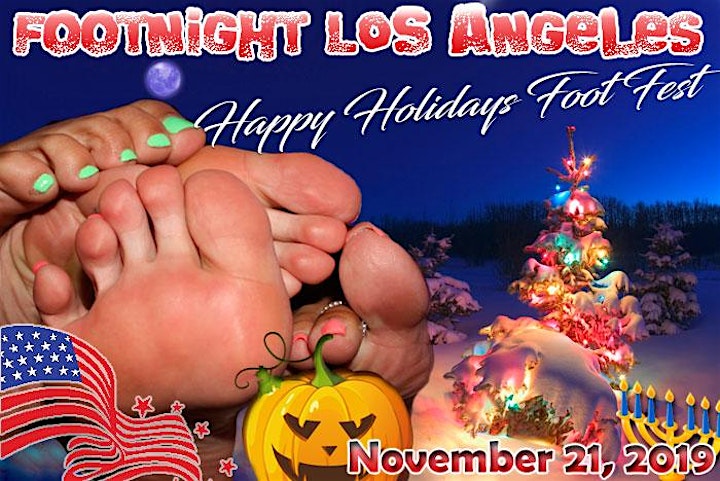 This holiday season we're delivering exactly what you want. The Ultimate Los Angeles Footnight is closing out the year in spacious comfiness and fun on Thursday, November 21st. just minutes outside of downtown LA.
You can write that letter to Santa if you want to, but only Footnight can deliver what you really desire. There is a definite reason you hang stockings and not a hat. Old Saint Nick may not have figured it out, but we know what you truly need to feel the spirit of the season.
We've got 55 to 60 of the hottest foot models strutting across the floor just waiting for you to go down on their sweet feet and tantalizing toes all wiggling for your pleasure. Don't miss this consummate treasure for your absolute pleasure.
____________________________________________________________________________________________________
CONFIRMED FEATURED MODELS FOR NOVEMBER 21ST
**UPDATED 11/19/19**
(listed in no particular order)
(** Just added)
Your Host Joclyn Stone - IG: @msjoclynstone
Jewell Marceau - IG: @jewellmarceau, Twitter: @MsJewellMarceau
Princess Marx - size 10, IG: princessmarxofficial
Stella Liberty - IG: @stellaliberty
Goddess Lilith - size 7w - IG: @GoddessLilithDomme
Mistress Justine Cross - FB: losangelesdominatrix Twitter: @Justineplays
**Soma Snakeoil - Size 7 foot with high arches - IG: @somasnakeoil Twitter: @GoddessSoma - WELCOME BACK!
Elisabeth Norwegian Goddess - Size 8 - IG: @elisabethsteennokleberg - NEW
Novella Rae - IG: novella.rae
Drea Seagren - IG: @DreaSeagren - NEW
Porn Star Ziggy Star - IG: ziggy_starxoxo
Miss Mya - Twitter:@MissMya_LA
RavenRae - IG: @SexiRavenRae
Bree: wikifeet.com/Bree_Essrig - NEW
Sin Twisted - IG: s1ntwist3d
Selena Seti - IG: dominaselena, Twitter: @dominaselena
EyeCandyToes-size 11- IG: @EyeCandyToes, Twitter: @EyeCandyToes - NEW
Hot Comedian Amy Snowdon - Size 8
**Lady Lilith Scorpius - ladylilithscorpius on IG, outlawpriestess on twitter. Size 6.5-7 - NEW
Skyyandra - Size 9 feet - Fetlife: Skyyandra
Miss Becky - IG: @missbeckyg
Goddess Aathira - Size 8 - IG: @goddessaathira
Nina Divine - IG: TaleofNina
Beautiful blonde Lily - size 8 - IG: Ashleys_world87
Cute Asian Nikki - size 7 - IG: Wonder_woman143 - NEW
Ally -Size 8.5 - IG: Allysynjade - NEW
Aliza Footfreak - size 6 - IG: alizagrama - NEW
Stunning Asian KittyJ
Eva Lasman - size 12
Sky Terrapin - size 10 - IG: @SkyTerrapin
Mistress Joi - Size 7.5 - Twitter: @MsJoyluck
Dancer Caligirlsoles - size 8
EyeCandyToes-size 11- IG: @EyeCandyToes, Twitter: @EyeCandyToes - NEW
Elori Stix - size 5-6 - IG:elori_stix, Twitter: @elori_stix
Sarah - size 6.5, IG: Girlnextdoorsoles - NEW
Beautiful Emma Love - size 6.5 - IG: Pretty_ass_Tara - NEW
Holly - Instagram: officialhollygardner and holly_2324 - NEW
Beautiful Asian Tiffany - NEW
Celeste Demure: FetLife: Beloved Oppressor, Twitter: @xcelestedemurex
Nina - size 9 - IG: maria_knows_it_all - NEW
Bella Raincloud - Size 8 - IG: bellaraincloud and @hellzbellzsoles
Goddess Maneater(size 10)- Twitter- @GoddessManeater - NEW
Precious Digits - Size 11W - IG: @Preciousdigits
Jen Solez - IG: Girlnextdoorsoles
Angelicas tinytootz from Chicago - size 5 - IG: Tinytootzangelicas, Twitter: Angelicastiny - NEW
Klarissa De Luca from NYC - size 10
Lady Valencia - Twitter: @FindomValencia
Domina Mara - IG: @maradomina
Miss M - size 8
Simone LaFleur - size 8 - Twitter: @lafleur_simone, IG: @simone_lafleur3 - NEW
Shelby SexyToes - size 8
Sayuri "the legal loli femdom" - size 5 1/2 - IG: @unused.notebook, Twitter: @SayuriUnused - NEW
Miss V - size 6
KittyKissin - size 10 - Twitter: @KittyKissin
Carmen - size 7.5 - Instagram: WaifuNextDoor/KittyMennie - NEW
Sara - size 7 - IG: Hood_proper - NEW
Idris Bunni - size 6 - NEW
Meg Vega from Las Vegas - size 6.5 - NEW
Beautiiful Liza - Twitter: @BeautiifulLiza
Vanity - size 6.5 - IG: twogodessesfourfeet - NEW
Emma Lace - size 8.5
**Stella Skye from Austria - Size :7.5 - IG : @redlion6868
**Jamie from Washington - NEW
**Tia Terranova - size 10 - NEW
Our beautiful foot fetish models will be in the house from 7pm to 1am, so come early and stay late, but just don't make the ladies wait. Check out the website to see the list of beautiful foot models planning to attend our event and buy your tickets early to save money. Ho, ho, ho!!!
Join us to share this wonderful opportunity to give thanks together for our private "safe nest" , our foot friends who love what we love and to the spectacular ladies who love sharing their feet with us.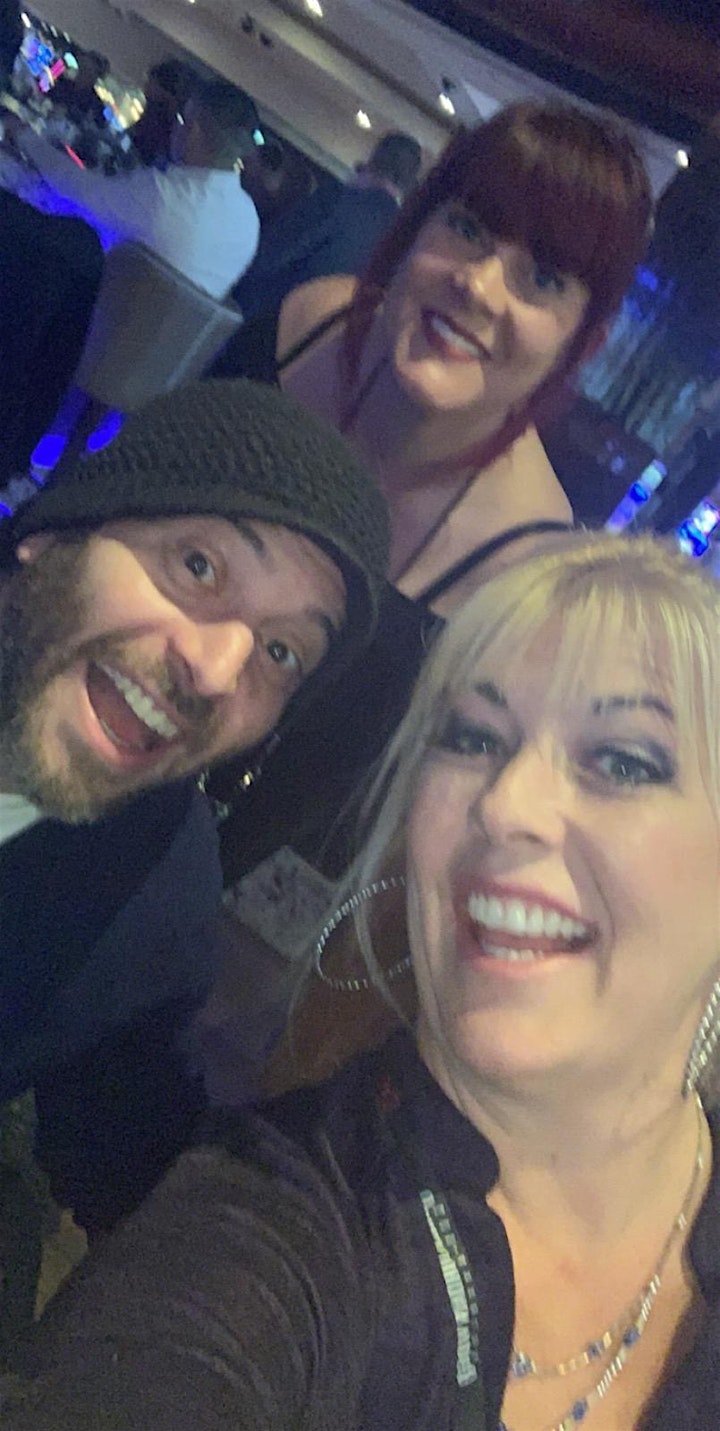 Hosted by Footnight International Founder & CEO himself, Steve Savage
...and the "Dream Team"!
Co-Hosted by the beautiful, bubbly, fun Joclyn Stone.. Porn Star, Adult Entertainer, AdultFilmStarNetwork Podcast Host, Host of XXXKaraoke and Topics from the Hat and FNI's Lifetime Achievement Award Winner.
Front of House Manager Ray D! The personification of loyalty, integrity and caring for the past 16 years with Footnight!
Footnight's Entertainment Director, lovely Rebecca Love! Our own fabulous Bartender and Game enthusiast. You know her from late night Skinamax, HBO and Showtime. You may also know her voice from the 5 star rated podcast "Talking Dirty with Rebecca Love" on the Adult Film Star Network. If you haven't met her, then you have your chance now. Rebecca will be dishing out fun prizes to random games, slinging drinks and telling crazy stories. Remember it is BYOB, we provide the cups, ice, mixes, soda and water.....
Event operations and Guest Support...Mario Z! Mario is a lifelong musician and superb stand-up comedian. He has an amazing, upbeat and super positive personality and demeanor, with a passion to lift people's spirits and make them laugh. We're really excited to now have Mario on the team!
And of course our new Mascot Stanley who has the ability to wrap you around his little paws by just looking at you. Many of you had the honor and privilege of meeting Stanley at the May 30th and July 18th LA Footnights!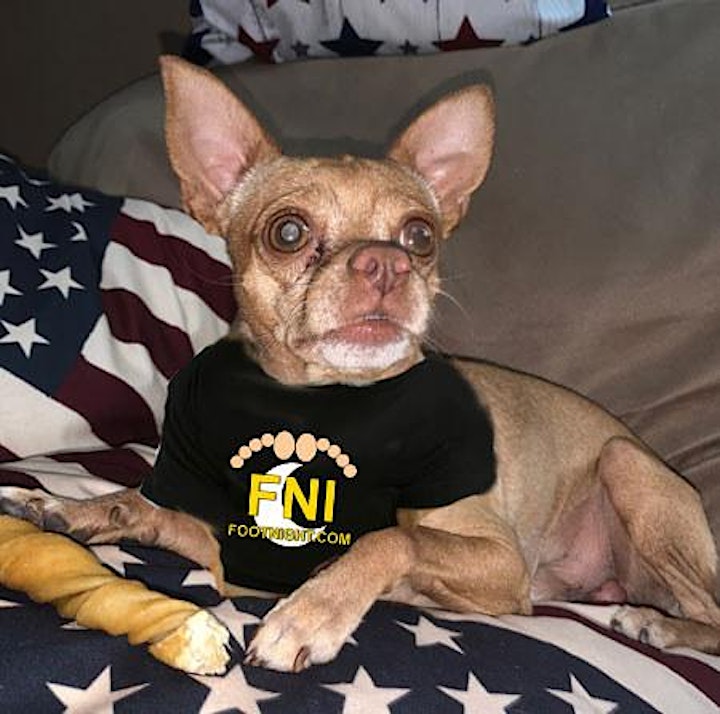 Come indulge with us at Footnight's HUGE NEWLY REVAMPED SEXY 12,000 sq.ft. PRIVATE CLUB near Downtown Los Angeles.!
Massive 10,000 sq.ft. space with lots of comfy play areas for all guests to meet, mingle, play and indulge PLUS Huge 2,000 sq.ft. basement with private spaces exclusively for VIP Guests (Get yours ASAP! They go really fast!!)
6 Gold VIP Rooms (your own closed door bedroom suite for the entire event)
2 Silver VIP Spaces (your own curtained enclosed comfy space for the entire event)
5 Bronze VIP Spaces (your own discreet comfy space for the entire event)