FNI 2020 New Year's Foot Bash & Annual Awards Presentations - January 16, 2020
About this event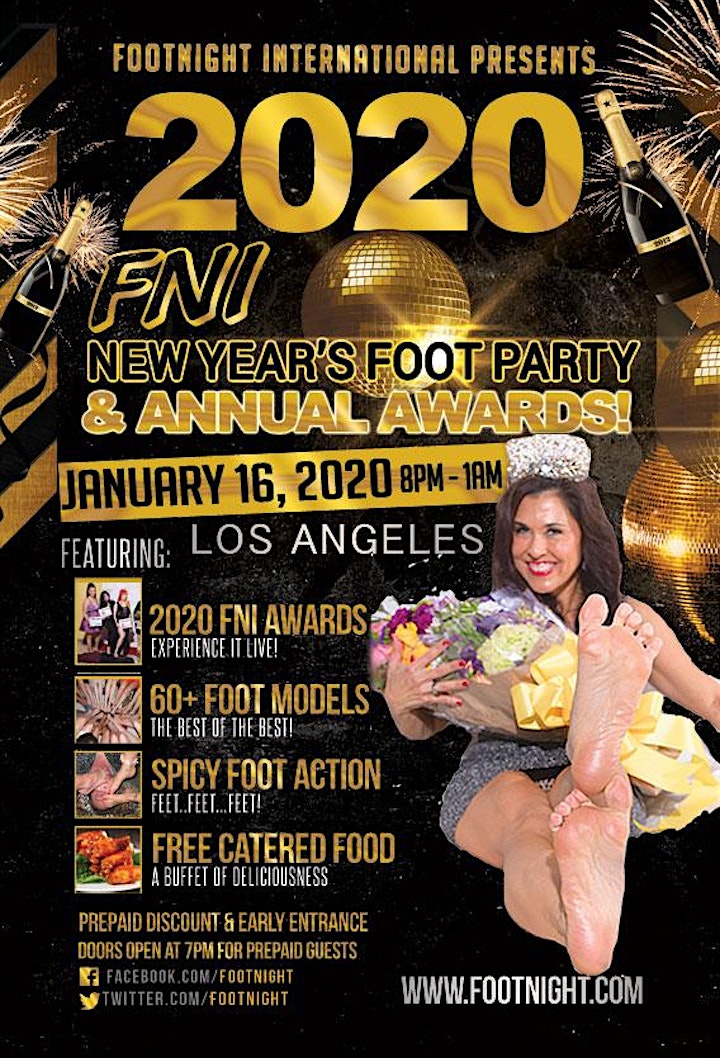 Join us for the most thrilling, esteemed, highly anticipated Footnight event of the year..
It's a NEW DECADE! Let's blast it off with the best foot party EVER!!
THE FNI 2020 NEW YEAR'S FOOT BASH & ANNUAL AWARDS PRESENTATIONS!
Thursday, January 16th, 2020
8.00pm - 1am (prepaid registrants 7.00pm-1.00am)
Los Angeles, CA
Come indulge with us at Footnight's biggest night of the year at our SEXY 12,000 square feet, 2-Level PRIVATE CLUB IN LOS ANGELES!
ITINERARY:
7.00pm - Models arrive for photos on red carpet
8.00pm - 9.30pm - Mix, Mingle & Play (Prepaid registrants 7pm - 9pm)
9.30pm - 10.00pm (30 min) - Awards Presentations
10.00pm - 1.00am - Mix, Mingle & Play
BYOB (refreshments and mixers available at the bar)
New Fun Award Presentations Show!
Delicious Free catered food
Huge 12,000 sq.ft - 2 level space
Lots of play areas, including 2,000sq.ft. Exclusive Private VIP area.
Huge Meet n Greet area
Great sounds and lighting
60+ Gorgeous girls excited to have their feet worshiped & adored by YOU!
More Foot Models... Under One Roof ....All On The Same Night ...All Ready, Willing And available For Foot Worship & Indulgence...Than Anywhere Else On The Planet!
Reserve your ticket today and secure your entry to the most thrilling, highly anticipated Footnight event of the year!
Full event and location details provided immediately after you register!
Have questions about FNI 2018 New Year's Foot Bash & Awards - January 18, 2018? Contact Footnight™ International
SPECIAL NOTE:
Thanks so much to so many of you for submitting your FNI Award votes and for supporting your favorite Footnight Models. We had an overwhelming response!
Your votes are now being counted and the models with the highest number of votes in each category, will be selected as Official 2020 FNI Award Winners.
Make sure to reserve your ticket ASAP and see the award presentations LIVE at the FNI New Year Foot Party & Award Show on January 16, 2020!
It's going to be a fun and thrilling night of celebration, fun and lots of foot indulgence!