FMEA : VDA/AIAG ALIGNMENT

Tuesday, September 18, 2018 from 8:00 AM to 5:00 PM (EDT)
Event Details
Risk Reduction (PFMEA) -
Identify and reduce the risk of potential quality failure and Error proofing past quality failures. Ensure that potential failure modes have proper controls (prevention/detection) and they work properly. Learn-See-Do Exercises. Subject to final VDA AND AIAG alignment release.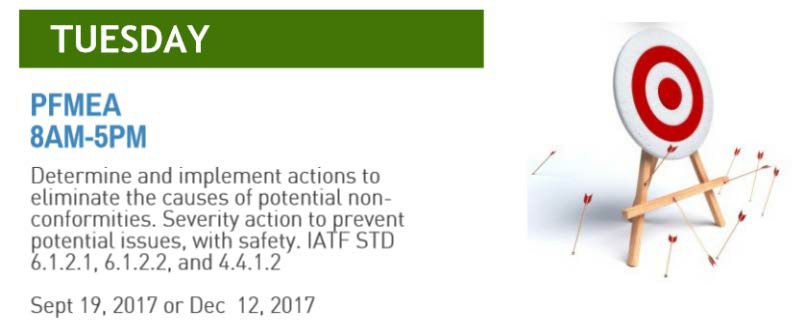 Learning objectives
Identify the Team (Group Dynamics)
Define the Scope
Define the Customer
Identify Functions, Requirements, and Specifications
Identify Potential Failure Modes
Identify Potential Effects
Identify Potential Causes
Identify Controls
Identify and Assess Risk
Recommended Action and Results
Institutionalize Lesson Learned
When & Where

Mott Community College Regional Technology Center
(Physical location for GPS)
138 Kensington Ave
Flint, MI 48503


Tuesday, September 18, 2018 from 8:00 AM to 5:00 PM (EDT)
Add to my calendar
Organizer
NEXUS SDI Motto: Quality Management systems have not significantly changed since 1941. Learn the quality fundamentals and define your QMS. If you dont, others will define it for you.
NEXUS: SDI Belief System: "A company exists to solve problems for its customers, we successful focus on that one thing.
NEXUS QSD is built on dependability, integrity, resolve, integration and pragmatic quality management services.
History & Background:
President: NEXUS QSD GROUP, LLC / SDI FOUNDER: L.Louis Garrett graduated from Prairie View A & M University in 1983 (Summa Cum Laude) with a Bachelor's Degree in Industrial Engineering Technology.Over 30+ years experience in lean manufacturing, quality controls, advanced quality program launch and training.
 June 1984 L. Louis Garrett began his career with General Motors Corporation. He held various positions; Supervisor of Production, Statistical Process Control Coordinator, Reliability Engineer/Lean Manufacturing Administrator, General Supervisor of Production/Reliability, Quality Manager at Flint Metal Fabricating, and Quality Director of Pontiac East Truck Assembly during GM's GMT800 launch (Chevolet Silverado & Serria). Louis later attended Central Michigan University for his Master of Science in Administration Degree.
 Louis  was certified in 1988 by the American Society for Quality (ASQ) as a Quality Engineer and Quality Auditor, from 1988 to 1999, Louis was trained by, Dorian & Peter Shainin, J. M. Juran, Merle Noates. He was trained on;  W. E. Deming, Taiichi Ohno, Shigeo Shingo,  Seiichi Nakajima,  Kaoru Ishikawa, Richard Levin, Genichi Taguchi and other techniques.
In February of 2008, he formed NEXUS GLOBAL SUPPLY CHAIN NETWORK, INC a network of over 40 companies into seven strategic business units with $13.2M in new, network contracts. One of the seven SBUs, NEXUS QSD GROUP, LLC inwhich The Supplier Development Institute was created in 2007.