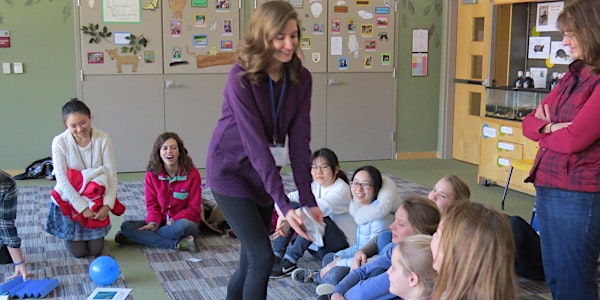 Flying WILD Environmental Education Certification Workshop 2020
By Calvin Ecosystem Preserve & Native Gardens
Date and time
Saturday, March 7, 2020 · 9:30am - 4pm EST
Location
Bunker Interpretive Center 1750 East Beltline Avenue Southeast Grand Rapids, MI 49546
Description
You are invited to participate in Flying WILD an environmental education certification workshop.
What is Flying WILD?
The curriculum and activity guide, Flying WILD, features 40 + lesson plans about birds and bird conservation. Students will learn about and celebrate migratory birds, through activities involving science, language arts, social science and math experiences, coupled with community outreach and service learning applications. Flying WILD offers practical, hands-on classroom and outdoor field investigation experiences, connecting real-world experiences in bird biology, conservation and natural history. It provides activities that demonstrate how to help birds and their habitats, and even how to implement a bird festival at your school. This awarding curriculum is proven to be effective, scientifically sound, based on current standards, and helps to prepare highly qualified educators. A great resource for future classroom teachers, land managers, environmental educators and researchers.
During the workshop …
You will be introduced to the Flying WILD curriculum to become more familiar with the materials so that you will feel comfortable using it after the workshop to educate your future students. Learn how to teach others to identify birds and use binoculars along with tips and tricks for leading birding field trips. Discover more about great web based tools, apps, and citizen science projects that you can participate in and use. You will also meet and share ideas with other college students and professional educators with similar interests and learn more about the environment while expanding your teaching skills.
More Reasons Why You Should Attend the Workshop
Receive an amazing curriculum and the latest nature-based materials to use with future students

Leave the workshop inspired and more knowledgeable about our natural enviroment and how to share its wonders with others

Certification looks great on your resume
The Details:
Who: College students and professional educators interested in environmental education

What: Professional development opportunity. The workshop will certify you to use Project WILD curriculum materials and guides in your classrooms, recreation programs, environmental education programs, vacation Bible school classes, etc.
When: Saturday, March 7, 2020 at 9:30 am - 4 pm
Where: Bunker Interpretive Center, Calvin Ecosystem Preserve & Native Gardens
Facilitator: Jeanette Henderson, Program Manager & Sophia Bryson, Program Coordianator
Cost: $15 for college students; $60 for the public (fee includes award winning activity guide,certification, instruction, lunch, snacks, and workshop materials)
Bring: Enthusiasm, warm clothes/boots (we will go outside), exact cash or check
Registration: Pre-registration is required by March 4, as space is limited.
Questions: Contact Jeanette Henderson at jmh46@calvin.edu or (616) 526-7601
College student rate is underwritten by Steve & Kara Vanderpol, Calvin Alumni
Flying WILD® is a program of the Association of Fish and Wildlife Agencies and sponsored in Michigan by the Department of Natural Resources.